[On 12 March 2021, the Department of Labor and Employment (DOLE) issued Labor Advisory No. 03, series of 2021, requiring private companies to shoulder the costs of COVID-19 vaccination of its employees. Companies, however, cannot compel its employees to get vaccinated. Should companies be be allowed to enforce a "no vaccine, no work" policy? The full text of Labor Advisor No. 3 is reproduced below.]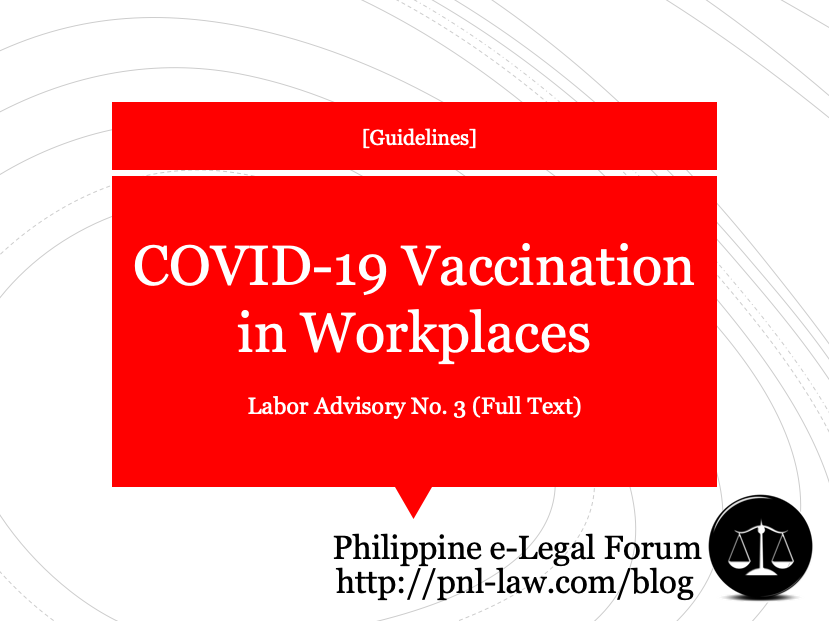 LABOR ADVISORY NO. 03
Series of 2021
GUIDELINES ON THE ADMINISTRATION OF COVID-19 VACCINES IN THE WORKPLACES
Pursuant to Article 5 of the Labor Code of the Philippines, as renumbered, Republic Act No. 11058 and Republic Act No. 11525, this Guidelines is hereby issued:
I. COVERAGE
This Guidelines shall apply to all establishments and employers in the private sector that administer COVID-19 vaccines in the workplaces.
II. VACCINATION IN THE WORKPLACE
Covered establishments and employers shall adopt and implement the appropriate vaccination policy in the workplace as part of their occupational safety and health program, consistent with the guidelines issued by the Department of Health (DOH) and Inter-Agency Task Force (IATF) in accordance with existing laws, rules, and regulations.
Covered establishments and employers may procure COVID-19 vaccines, supplies, and other services. They may also seek the support of the appropriate government agencies in the procurement, storage, transport, deployment, and administration of COVID-10 vaccines.
No cost of vaccination in the workplace shall be charged against or passed on, directly or indirectly, to the employees.
III. DISCRIMINATION OR TERMINATION
Covered establishments and employers shall endeavor to encourage their employees to get vaccinated. However, any employee who refuses or fails to be vaccinated shall not be discriminated against in terms of tenure, promotion, training, pay, and other benefits, among others, or terminated from employment. No vaccine, no work shall not be allowed.
IV. ENFORCEMENT AND COMPLIANCE
The DOLE Regional Offices shall enforce this Guidelines and provide appropriate assistance to covered establishments and employers to facilitate their compliance hereof.
Be guided accordingly.
SILVESTRE H. BELLO III. Secretary
12 March 2021.