Can a Filipino file an annulment case in the Philippines while abroad? The same issue equally applies to annulment of marriage, declaration of nullity of marriage, and recognition of a foreign divorce decree. Overseas Filipinos (OF) and Overseas Filipino Workers (OFWs) are currently confronted with the threat of the covid-19 global pandemic and the resulting lockdown/quarantine implemented around the world. Many Filipinos, whether in the Philippines or while abroad, seek a fresh start in their marital life. They seek to do it the right way by ensuring that the previous marriage is properly nullified or declared void (for one, children in the next family are considered illegitimate).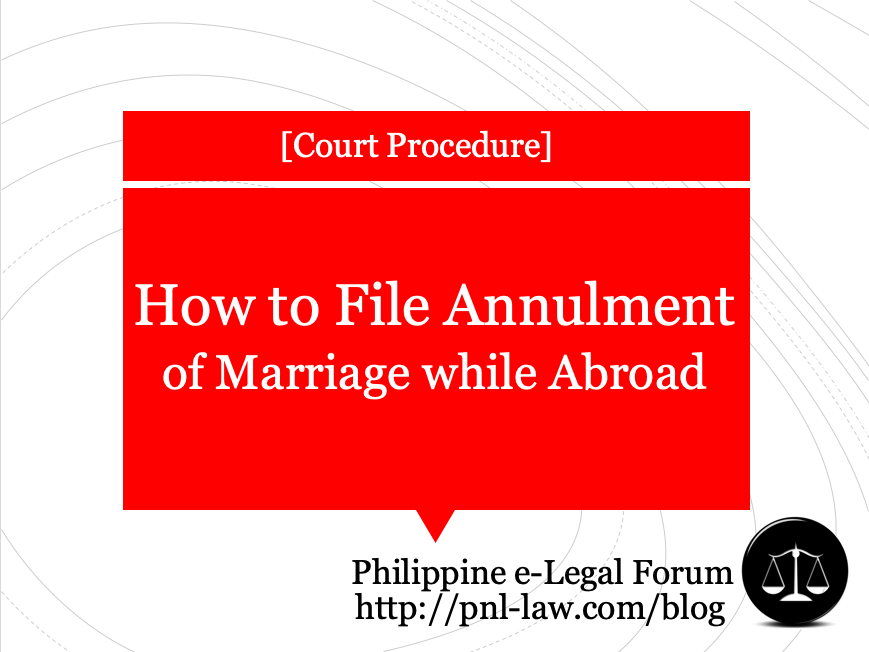 Filing an annulment case from abroad is allowed. A Filipino currently staying in a foreign jurisdiction must comply with a number of requirements, including the preparation and filing of the proper petition and presenting evidence to support the petition.
The petition must be verified and must contain the statement of facts necessary to support the case. Technology can help in the preparation of the narration and the petition itself. Emails and internet connections (like Zoom and Viber) can assist the lawyer in interviewing the witnesses and clarifying the details of the petition. Under the new rules of procedure, the judicial affidavits must be attached to the initiatory pleading (or the one first filed in court to start the case).
The petition, as well as the judicial affidavits, must be verified or executed under oath. This can be done through apostille. The documents can also be notarized and authenticated ("red ribbon") at the nearest Philippine embassy or consulate. The entire set of documents is then sent to the Philippines, then filed in court.
The filing of the case is different from presenting evidence to support the case. Statement of facts stated in the petition and documents attached to the petition do not prove themselves in court. A witness has to confirm the judicial affidavit and identify the documents/exhibits. Click the appropriate link to see the extended discussion of the procedures: