With more businesses and establishments allowed to operate during the General Community Quarantine (GCQ), public transportation is crucial. Officials say that companies should provide transportation solutions for their employees. This is a heavy burden for micro, small and medium enterprises (MSMEs), especially considering that these MSMEs are already suffering from severe financial strain brought about by the lockdown. Each LGU has its unique traffic or transportation concerns. Metro Manila has its Modified Number Coding Scheme, but this will most likely be insufficient to address the transportation shortage. On the other hand, Cebu City has provided its own guidelines, basically allowing ALL public transportation and ALL private vehicles of employees working in permitted establishments.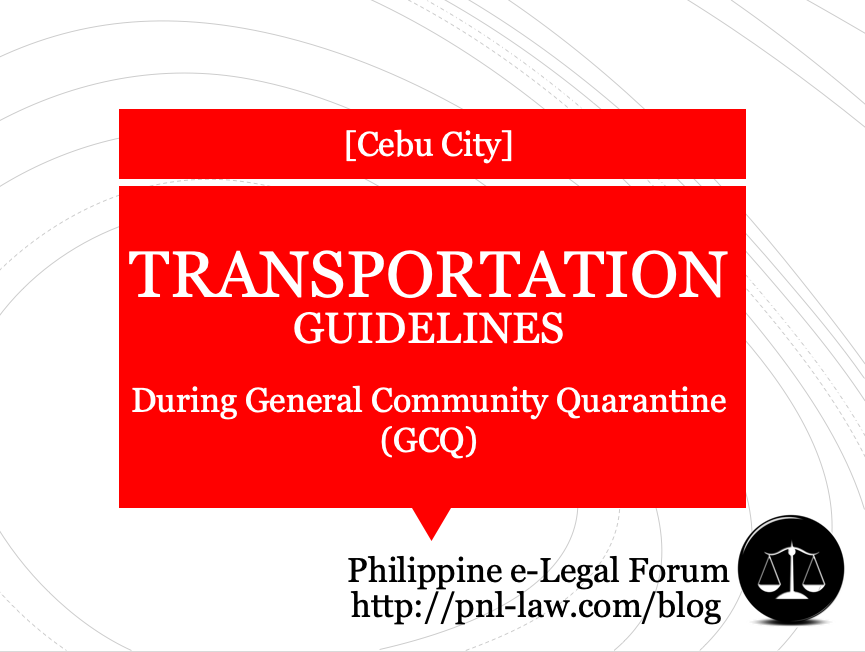 Clear and timely guidelines are necessary to avoid confusion. Sufficiently calibrated mechanisms are crucial to ensure transportation requirements are met. Here are the transportation-related provisions of the GCQ guidelines for Cebu City.
TRANSPORTATION
Transportation services shall be allowed during the GCQ, subject to the following guidelines:
A. All forms of public transportation in Cebu City shall be allowed and shall be exempted from the Number Coding Scheme as established hereunder, subject to corresponding conditions:
i. Buses, jeepneys, modern jeepneys, and vans-for-hire shall follow the guidelines mandated under LTFRB Memorandum No. 2020-017 which includes a passenger load of not more than 50% of the vehicle capacity excluding the driver and conductor, wearing of masks and gloves, among others.
Ii. Taxis and Transport Network Vehicle Services (TNVS) shall follow the guidelines mandated under LTFRB Memorandum No. 2020-018 which includes the following, among others:
Wearing of masks and gloves;

Driver compartment should be sealed off from passenger area using non-permeable, transparent material;

Passenger limit of three (3) excluding driver;

Online booking and payment (cashless) transactions; and

Maintenance of daily passenger manifest or logbook.
B. All forms of private transportation such as, but not limited to, company shuttles, personal vehicles, bicycles, motorcycles, and e-scooters shall be allowed to operate provided that they follow the Number Coding Scheme for vehicles as established hereunder. These modes of transportation must observe strict social distancing and other health and safety protocols.
C. The LTFRB, in coordination with the City Government, will provide point-to-point bus operations for the public, for a fee, which will have inter-City and intra-City routes as may be hereinafter established. Appropriate engineering controls and minimum health standards shall be enforced.
NUMBER CODING SCHEME FOR VEHICLES
Motor vehicles including motorcycles whose plate numbers end in odd numbers shall be allowed to use public roads, streets and thoroughfares within the territorial jurisdiction of Cebu City on Mondays, Wednesdays, Fridays and Sundays.
Motor vehicles whose plate numbers end in even numbers and zero (0) shall be allowed to use public roads, streets and thoroughfares on Tuesdays, Thursdays, Saturdays and Sundays.
The following are exempted from the Number Coding Scheme for Vehicles:
1. Vehicles of owners and workers of establishments and businesses that are allowed to open, including those passing through/coming from/going to other LGUs for work purposes only;
2. Vehicles of government agencies, offices, local governments units and their officials and employees reporting to work;
3. Ambulances, fire trucks, police cars, military vehicles or other law enforcement owned/registered vehicles/motorcycles on official functions;
4. Those carrying person/s needing immediate medical attention;
5. Diplomatic vehicles with diplomatic plates;
6. Chartered point-to-point shuttle services of allowed businesses;
7. Inter-City and intra-City point-to-point business provided by the LTFRB; and
8. Those allowed by the City Mayors (Cebu, Mandaue, Lapu-Lapu Cities) through the issuance of a vehicle pass or other forms of exemptions.
These guidelines are included in Executive Order No. 79 issued by the Mayor of Cebu City.