The Metro Manila Development Authority (MMDA) has announced that the Modified Unified Vehicular Volume Reduction Program (UVVRP) or "Number Coding Scheme" for Metro Manila will take effect on 8 June 2020 (the full text of MMDA Regulation No. 2020-001 is reproduced below). Update (7 June 2020): Number Coding Scheme suspended until further notice, per the MMDA.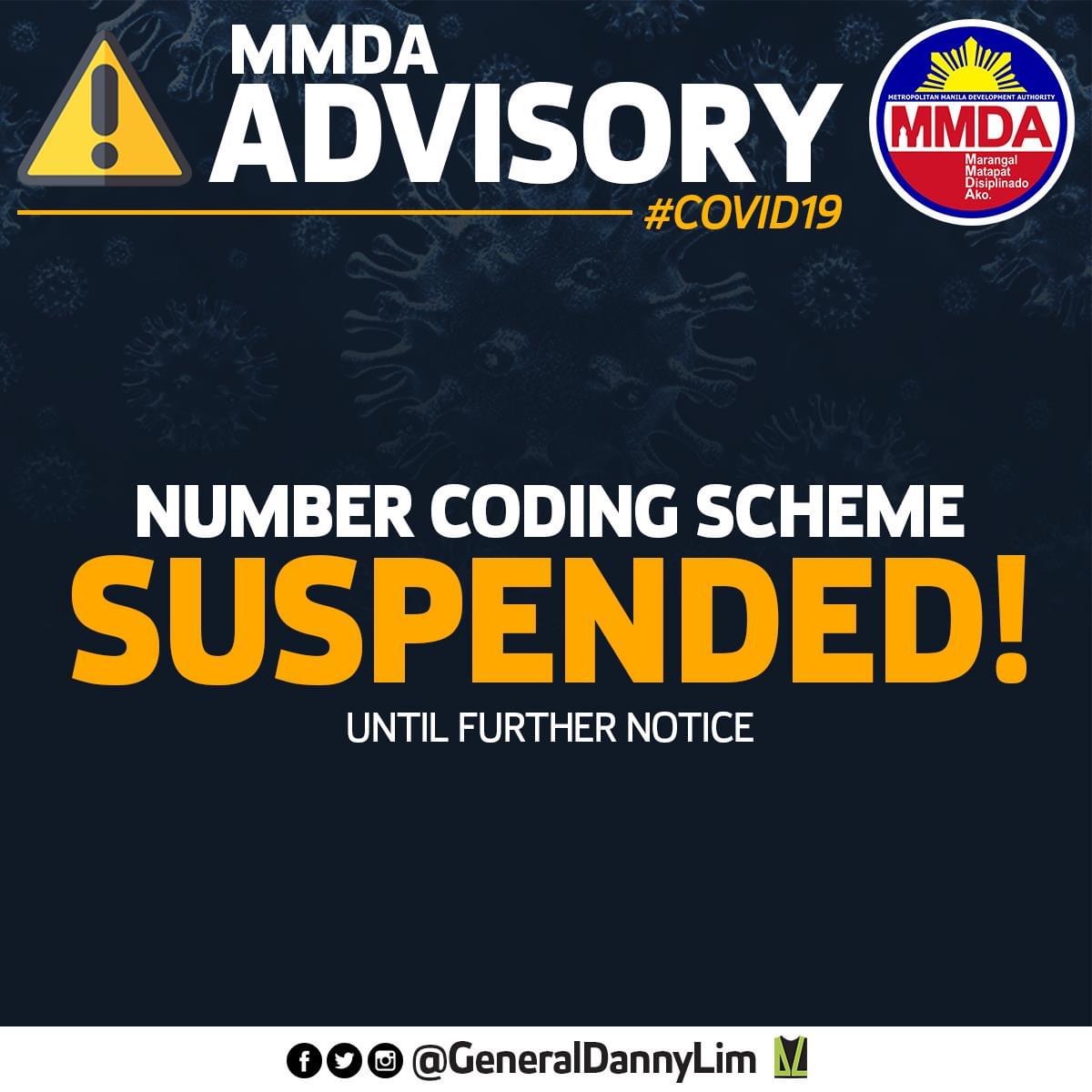 PREVIOUS GUIDELINES
Prior to the suspension of the Number Coding Scheme (surprisingly called "color coding scheme" by some), the MMDA announced that the Modified Number Coding Scheme will take efrec ton 8 June 2020. As previously noted, there appears to be confusion in the interpretation of the guidelines. This is surprising because the MMDA Regulation is fairly short (in contrast, see the transportation guidelines for Cebu City). The modified traffic scheme for Metro Manila (based on MMDA Regulation No. 2020-001) is basically the old Number Coding Scheme, with the following EXCEPTIONS:
(a) Owner-driven or self-driven private motor vehicles of doctors, nurses, and other medical personnel, even if the driver is the only occupant of the vehicle;
(b) All private motor vehicles, provided that: (i) there are

two or more occupants

including the driver; (ii) physical distancing, which refers to the required one-meter distance between passengers, is strictly observed; and (iii) all occupants must wear face mask.
In other words, for (a) and (b) above, a vehicle may be used even on a "coding" day in the National Capital Region (NCR). For any other day (not the car's "coding" day), the driver can be alone in the vehicle.
Note that "doctors, nurses, and other medical personnel" in (a) are among the Authorized Persons Outside Residence (APOR). If the intention of the Metro Manila mayors is to include all APORs in (a), they could have easily done so, but they did not.
---
METRO MANILA COUNCIL
MMDA REGULATION NO. 2020-001
SERIES OF 2020
WHEREAS, in conjunction with Executive Order No. 112 dated 30 April 2020 the Inter-Agency Task Force for the Management of Emerging Infectious Diseases (IATF MEID) issued its "Omnibus Guidelines on the Implementation of Community Quarantine in the Philippines" wherein public transportation shall be suspended, among others;
WHEREAS, pursuant to IATF MEID Resolution No. 37 Series of 2020 dated 15 May 2020, the National Capital Region was placed under a Modified Enhanced Community Quarantine (MECQ) until 31 May 2020;
WHEREAS, due to the lack of public transportation and in order to provide meaningful assistance to all frontline and essential workers, there is a need to modify the Unified Vehicular Volume Reduction Program (UVVRP), commonly known as the "Number Coding Scheme", such that private motor vehicles may be exempted from the UVVRP subject to specified conditions;
NOW, THEREFORE, the Metro Manila Council hereby resolves that:
1. Private motor vehicles shall be exempted from the UVVRP provided that: a) There are two or more passengers including the driver; b) Social or physical distancing is strictly observed, i.e., seated at least one (1) meter apart from each other; and c) All passengers shall wear face masks.
2. Owner-driven or self-driven private motor vehicles of doctors, nurses, and other medical personnel shall be exempted from the UVVRP.
3. All other previous Regulations, Resolutions, Ordinances, rules and regulations of the Metro Manila Council which may be inconsistent with or contrary to the foregoing are hereby revoked, amended, or modified accordingly.
4. This Regulation shall be effective immediately after its publication in two (2) newspapers of general circulation and filing with the Office of the National Administrative Register, U.P. Law Center.
APPROVED AND ADOPTED on this 26th day of May 2020 via video conference.