In registering with the Securities and Exchange Commission (SEC), a new domestic corporation must file its Articles of Incorporation, duly signed and "acknowledged or authenticated", containing substantially the required matters (see Contents of Articles of Incorporation). Acknowledgement and authentication are done differently, as provided in SEC Memorandum Circular No. 16 dated 29 April 2020 (Re: Guidelines on Authentication of Articles of Incorporation in Applications for Registration of New Domestic Corporations, published on 30 April 2020 in Manila Bulletin and Philippine Star).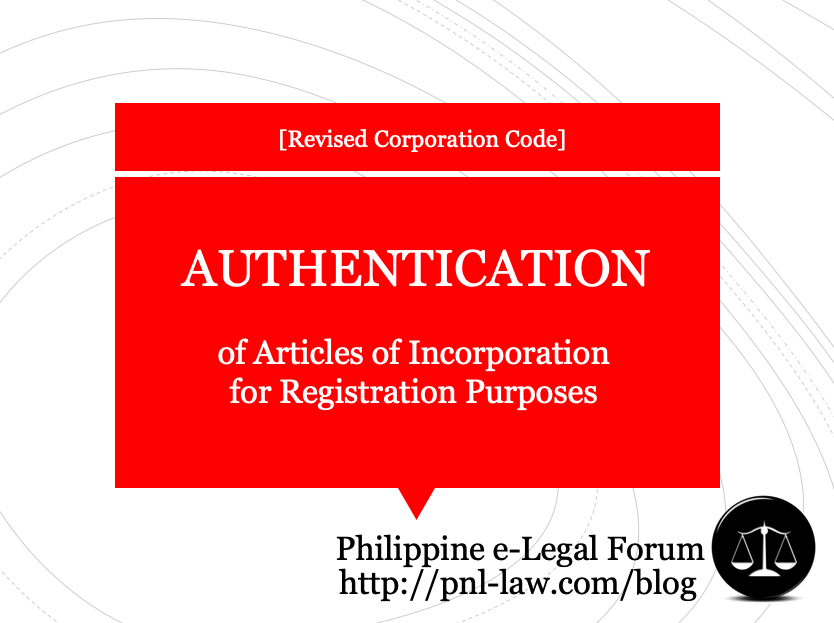 ACKNOWLEDGMENT
The incorporators, if they so choose, may acknowledge the Articles of Incorporation before a notary public in accordance with the applicable laws and rules, and the same will be accepted by the SEC. If the Articles of Incorporation is executed outside the Philippines, the Articles of Incorporation may be:
(1) apostilled in accordance with the 1961 Hague Convention Abolishing the Requirement of Legalisation for Foreign Public Documents, otherwise known as the "Apostille Convention;" or
(2) notarized or authenticated by a Philippine diplomatic or consular officer.
If the Articles of Incorporation is notarized or acknowledged, there is no need for authentication.
AUTHENTICATION
The SEC will accept for registration Articles of Incorporation that are accompanied by a Certificate of Authentication signed by all incorporators in the prescribed form (see below). Both the Articles of Incorporation and the Certificate of Authentication need not be notarized nor consularized.
This process is much matter, as this saves on time and expenses.
FORM F-100: REGISTRATION OF FOREIGN INVESTMENTS
The application for registration of a new domestic corporation with more than 40% foreign equity shall be accompanied by an application for registration of investments of non-Philippine national using SEC Form F-100, if applicable.
The SEC Form F-100 need not be authenticated, except when it is executed outside the Philippines, in which case it must be authenticated in the same manner as the Articles of Incorporation.
FRAUD OR MISREPRESENTATION
When a corporation has procured its Certificate of Registration through fraud or misrepresentation, its registration shall be revoked. Moreover, those: (a) responsible for the formation of a corporation through fraud, or (b) who assisted directly or indirectly therein, shall be punished with a fine ranging from P200,000 to P2,000,000.
When the violation is injurious or detrimental to the public, the penalty shall be a fine ranging from P400,000 to P5,000,000.
This liability is separate from the penalties for willfully certifies an incomplete, inaccurate, false or misleading statements or reports. [See Corporations: Penalties for Incomplete, Inaccurate, False or Misleading Statements or Reports]
PRESCRIBED FORMAT
---
CERTIFICATE OF AUTHENTICATION
I/We, [NAME/s OF INCORPORATOR/s], [NATIONALITY], of legal age, and with office address at [BUSINESS ADDRESS], hereby certify that:
I/We am/are the incorporator/s and the duly appointed representative/s of [NAME OF BUSINESS], which is currently in the process of securing business registration;

I/We have read and understood the registration system's terms of use and privacy
policy;

In pursuance of the application for corporate registration of [NAME OF BUSINESS], and after verification with all of the incorporator/s, the complete, true, and correct information has been ascertained and personally encoded by an authorized representative of the corporation through the registration system;

The fully-accomplished physical copies of the incorporation documents submitted in support of the application for registration have been reviewed by all incorporator/s and I/we confirm that the information indicated therein is complete, true, and correct, and that the same accurately reflects and matches the data already provided through the registration system;

The documents submitted will be subjected to a post-registration evaluation to determine compliance with the applicable laws, rules, and regulations;

Any defect in the Articles of Incorporation and/or Bylaws, as well as other incorporation document/s, shall constitute a valid ground for the revocation of the registration and cancellation of the certificate thus issued; Provided, however, that if the defect may be cured by a Petition for Correction, or an application for amendment, of the Articles of Incorporation and/or Bylaws, [NAME OF BUSINESS] will file the necessary remedial measure within ninety (90) days from receipt of notice of the defect;

Notice/s of proceedings relating to the registration of this company may be sent to the incorporators electronically through the following e-mail address : [COMPANY E-MAIL ADDRESS];

I/We am/are fully aware that the formation of a corporation through fraud, as well as assisting directly or indirectly thereto, is punishable under Section 164 of the Revised Corporation Code, and that the willful certification of a report required under the Revised Corporation Code, knowing that the same contains incomplete, inaccurate, false, or misleading information or statements, is likewise punishable under Section 162 of the Revised Corporation Code; and

All of the incorporator/s whose name/s appear/s below executed the attached Articles of Incorporation, and other incorporation documents of [NAME OF BUSINESS] and that the same are my/our free and voluntary act and deed.
[SIGNATURE]
[NAME OF INCORPORATOR] [TIN] or [PASSPORT NO., if foreign] [DATE OF SIGNING]
[SIGNATURE]
[NAME OF INCORPORATOR] [TIN] or [PASSPORT NO., if foreign] [DATE OF SIGNING]