A corporation shall have perpetual existence unless its articles of incorporation provides otherwise. This is one of the major changes made under the Revised Corporation Code (Republic Act No. 11232). Under the old Corporation Code, the maximum corporate term is only fifty (50) years, subject to extensions. The limit on corporate term has been removed.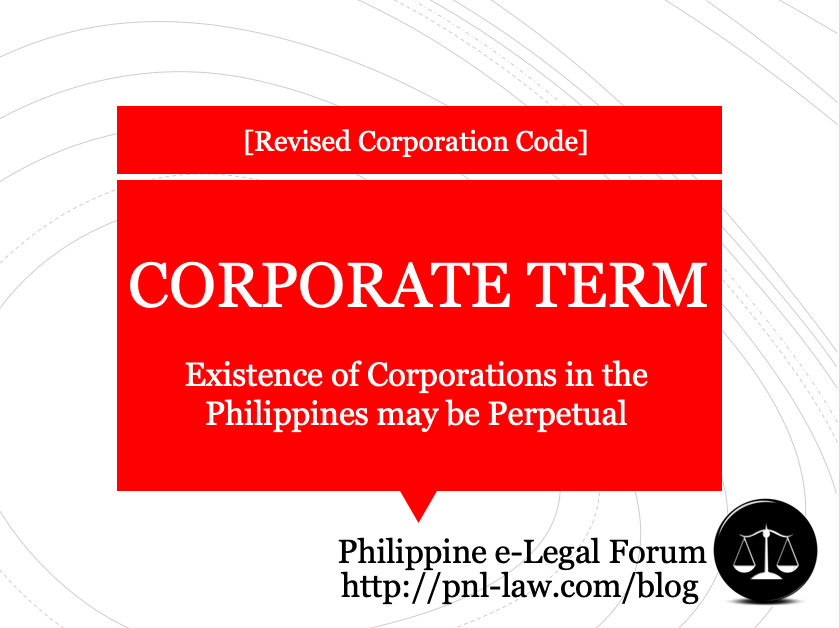 EFFECT ON EXISTING CORPORATIONS
Corporations with certificates of incorporation issued prior to the effectivity of the Revised Corporation Code (23 February 2019), and which continue to exist, shall have perpetual existence, unless the corporation, upon a vote of its stockholders representing a majority of its outstanding capital stock, notifies the Securities and Exchange Commission or SEC that it elects to retain its specific corporate term pursuant to its articles of incorporation. Any change in the corporate term under this section is without prejudice to the appraisal right of dissenting stockholders in accordance with the provisions of the Revised Corporation Code.
EXTENDING/SHORTENING CORPORATE TERM
A corporate term for a specific period may be extended or shortened by amending the articles of incorporation. No extension may be made earlier than three (3) years prior to the original or subsequent expiry date(s) unless there are justifiable reasons for an earlier extension as may be determined by the Securities and Exchange Commission. Such extension of the corporate term shall take effect only on the day following the original or subsequent expiry date(s).
REVIVAL OF CORPORATE EXISTENCE
A corporation whose term has expired may apply for a revival of its corporate existence, together with all the rights and privileges under its certificate of incorporation and subject to all of its duties, debts and liabilities existing prior to its revival. Upon approval by the Securities and Exchange Commission, the corporation shall be deemed revived and a certificate of revival of corporate existence shall be issued, giving it perpetual existence, unless its application for revival provides otherwise.
SECONDARY LICENSES
The application for revival of certificate of incorporation for the following entities must be accompanied by a favorable recommendation of the appropriate government agency:
banks
quasi- banking institutions
pre-need companies
insurance companies
trust companies
non-stock savings and loan associations (NSSLAs)
pawnshops
corporations engaged in money service business, and
other financial intermediaries