A claim refers to all claims or demands of whatever nature or character against the debtor or its property, whether for money or otherwise, liquidated or unliquidated, fixed or contingent, matured or unmatured, disputed or undisputed, including, but not limited to: (1) all claims of the government, whether national or local, including taxes, tariffs and customs duties; and (2) claims against directors and officers of the debtor arising from acts done in the discharge of their functions falling within the scope of their authority.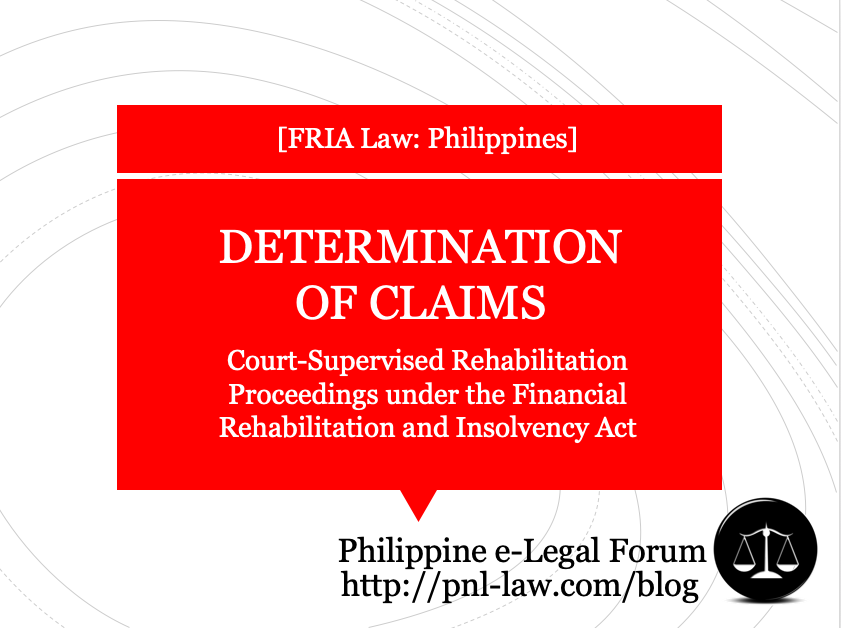 REGISTRY OF CLAIMS
Within 20 days from his assumption into office, the rehabilitation receiver in a court-supervised rehabilitation proceeding shall establish a preliminary registry of claims based on the schedule of debts and liabilities provided in the petition. The rehabilitation receiver shall make the registry available for public inspection and give notice to the debtor, creditors and stakeholders on where and when they may inspect it by causing the publication of the place/s and date/s of inspection in a newspaper of general circulation in the Philippines once every week for 2 consecutive weeks.
The period of inspection shall not exceed 15 days from the last publication. All claims included in the registry of claims must be duly supported by sufficient evidence.
OPPOSITION OR CHALLENGE OF CLAIMS
Within 30 days from the expiration of the period to inspect the registry of claims, the debtor, creditors, stakeholders and other interested parties may submit to the court a challenge to the claim/s, as listed in the registry of claims serving a certified copy on the rehabilitation receiver and the creditor holding the challenged claim/s.
Upon the expiration of the 30-day period, the rehabilitation receiver shall submit to the court the registry of claims. The registry of claims shall include the following lists of:
(1) claims that have not been subject to challenge;
(3) disputed but unresolved claims.
APPEAL
The aggrieved party may seek the review of the decision of the rehabilitation receiver on a claim by filing a motion with the rehabilitation court within 5 days from receipt of the rehabilitation receiver's assailed decision, which shall be decided by the court at the soonest possible time.