When the lockdown is lifted and areas are no longer under any community quarantine, Accommodation Establishments will have to face the challenges of a New Normal. "New Normal" refers to the emerging behaviors, situations, and minimum public health standards that will be institutionalized in common or routine practices and remain even after the pandemic while the disease is not totally eradicated through means such as widespread immunization. In plain terms, New Normal means things will never be the same, and it is going to be extra challenging for owners or operators of Accommodation Establishments.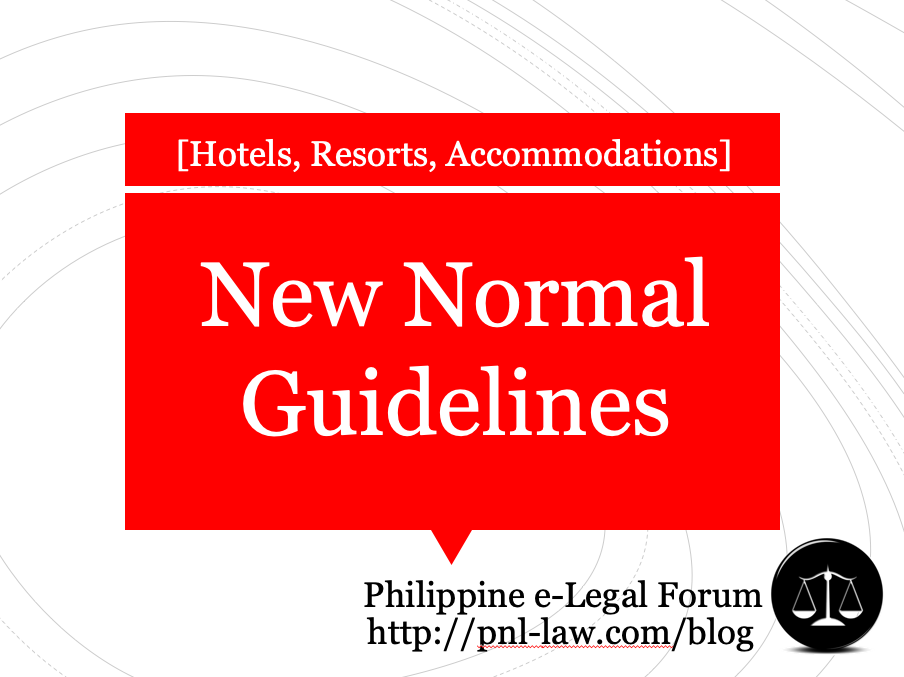 WHAT ARE ACCOMMODATION ESTABLISHMENTS
For Accommodation Establishments, the New Normal is ushered in by Memorandum Circular No. 2020-002, entitled the New Normal Health and Safety Guidelines for Accommodation Establishments, issued by the Department of Tourism (DOT) on 22 May 2020. The Circular covers all Accommodation Establishments, which is defined as "establishments operating primarily for accommodation purposes." The term includes, but not limited to:
hotels
resorts
apartment hotels
tourist inns
motels
pension houses
private homes used for homestay
ecolodges
serviced apartments
condotels
bed and breakfast facilities
The enumeration, which is largely is self-explanatory, includes an interesting item: private homes used for homestay. It most likely includes units listed in airbnb.
Added: The definition of "Accommodation Establishments" has been carried over and adopted in the IATF Resolution No. 43, amending the revised Omnibus Guidelines on the Implementation of Community Quarantine in the Philippines.
CERTIFICATE TO OPERATE
The revised Omnibus Guidelines reinforces the authority of the DOT to impose conditions and requirements for accommodation establishments. In fact, the revised Omnibus Guidelines further requires that before these establishments may be allowed to operate, they must secure a Certificate of Authority to operate from the DOT.
STANDARDS FOR ACCOMMODATION ESTABLISHMENTS
For these establishments, the New Normal institutionalizes existing practices, like the preference of online or contactless payment, which reduce face-to-face transactions. Many changes are radical and, to a certain extent, will definitely result to increased costs and decreased profits. Some of these changes are:
1. The requirement of a Health Declaration Form, which must be filled up and completed by guests upon check in. The Accommodation Establishment's staff must record and analyze guest lists for persons coming from countries that have reported confirmed cases of the current disease and, where proper and observing the rules on privacy, notify the Barangay Health Emergency Response Team (BHERT) and file a report with the DOT Regional Office.
2. Front desk personnel attending to guests must wear face masks. Disposable gloves must be used when handling cash or documents, and/or materials that are passed from person to person. Contactless process at the front desk is highly encouraged.
3. Body temperature checking using a thermal scanner at entrances shall be undertaken for all guests by qualified health or medical staff or trained personnel. Only guests cleared during screening shall be allowed to enter the perimeter to check-in. Those with fever and flu-like symptoms will not be allowed to enter the establishment and will be referred to the doctor on duty, to the nearest hospital, or to the BHERT in accordance with DOH-prescribed protocol.
4. Guests shall be advised to disinfect their shoes using sanitizing mats provided at the entrances. The following medical kit and PPE shall be readily available at the reception counter or desk: (i) Germicidal disinfectant or wipes for surface cleaning; (ii) Face mask or face shield; (iii) Biohazard disposable waste bag;(iv) 70% solution alcohol or alcohol-based hand sanitizer; (v) Tissue paper, napkin, or paper towel; and (vi) Disposable gloves.
5. Physical Distance measures, hand hygiene, and respiratory etiquette must be observed when handling guests at the check-in counter.
6. Guests must be provided with appropriate information on the prevailing disease, as well as the policies enforced by the establishment to reduce the risk and spread of the disease. Information materials on hand washing and respiratory etiquette, proper use of face mask, emergency contact numbers, among others, must be provided to guests.
7. Guests must be informed of the management policies on room occupancy, dining, and use of public areas imposed to ensure safety and reduce risk of infection. Physical distancing, wearing of face mask, proper handwashing / hand sanitizing practice must be emphasized.
8. Only single up to double room occupancy is allowed. Couples or family members who share the same household may be allowed in double or twin occupancy rooms. A distance of 1 to 2 meters between the beds is highly encouraged. Sanitation kit shall be provided for each guest which may include 70% solution alcohol or alcohol-based sanitizers, disinfectant sprays, face masks, disposable gloves, and rags.
9. Housekeeping staff should be trained in the proper use of disinfectants or sanitizing solutions and provided with appropriate PPE such as face masks, gloves, disposable gown/ coverall and closed shoes.
10. No showing of guests around the room after check in. Guest escorting to the room may be allowed following strict observance of physical distancing and in compliance with the health and safety protocols set by the DOH.
11. Guests must be provided with reminder cards, which may include the following: (i) No sharing of food or any personal or non-personal belongings; (ii) Proper disposal of used PPE; (iii) Mingling with occupants of other rooms are not encouraged; (iv) Practice of proper handwashing etiquette / hand hygiene, respiratory etiquette, and proper use of face mask; and (v) Strict observance of Physical Distancing.
12. Buffet and room service are things of the past. Self-service station set up for guests at the dining area is highly discouraged. Buffet services and room service is highly discouraged. In lieu of room service, grand-and-go station (where guests can pick-up their breakfast or ordered food) must be made available. Grab-and-go stations must be sanitized regularly every after use.
13. Hotel transport vehicles must comply with the Social Distancing and Passenger Limit Guidelines set by the Department of Transportation (DOTr) to avoid possible contact. For cars / sedans, no passenger shall be seated beside the driver, and no more than three (3) passengers, including the driver, per car. For vans, only two (2) passengers per row are allowed and a waterproof transparent barrier between the driver and the passengers must be installed. For buses and coasters, a waterproof transparent barrier between the driver and the passengers must be installed and passengers are not allowed to stand while vehicle is moving.
14. Accommodation Establishments must create a holding area for symptomatic guests with travel history from identified countries with high cases prior to transport to hospital. Holding area must confirm to DOH standards. Guests with fever (equal to or more than 38C) and/or cough, and have a history of travel to identified high risk countries or localities within the Philippines, must be immediately referred to the nearest hospital.
15. The establishment must designate a Hygiene and Safety Manager to take charge of the sanitation and hygiene maintenance in all the establishment may be considered. The establishment must also employ trained health or medical staff, complete with emergency kit and equipment, to provide immediate assistance when necessary.
For the rest of the requirements, refer to the full text of the New Normal Health and Safety Guidelines for Accommodation Establishments.