[The full text of Memorandum Circular No. 20-33 ("Revised Category I-IV Business Establishments or Activities Pursuant to the Revised Omnibus Guidelines on Community Quarantine dated 22 May 2020 Amending for the Purpose Memorandum Circular 20-22 S. 2020"), issued by the Department of Trade and Industry (DTI), is reproduced below. The Annex containing the list of business is provided in a separate post.]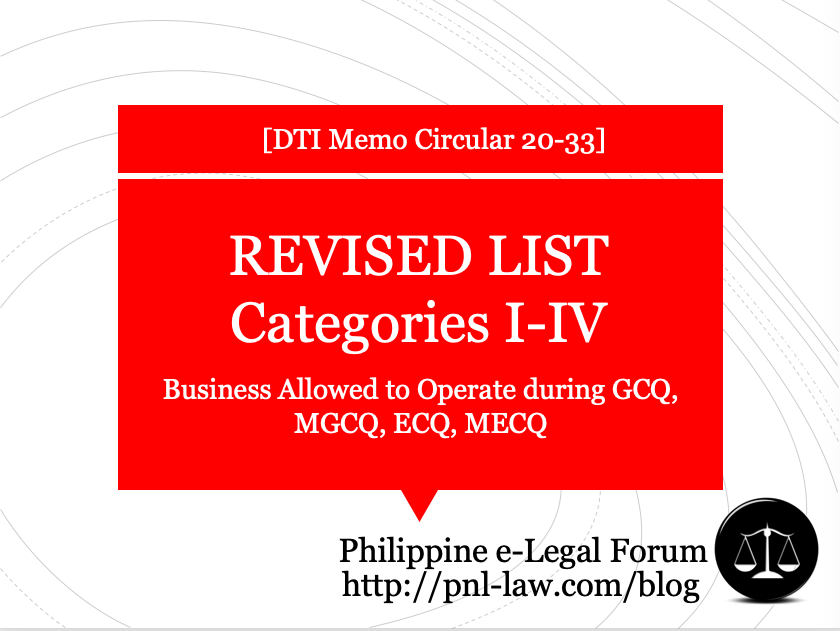 MEMORANDUM CIRCULAR NO. 20-33
Series of 2020
SUBJECT : REVISED CATEGORY I – IV BUSINESS ESTABLISHMENTS OR ACTIVITIES PURSUANT TO THE REVISED OMNIBUS GUIDELINES ON COMMUNITY QUARANTINE DATED 22 MAY 2020 AMENDING FOR THE PURPOSE MEMORANDUM CIRCULAR 20-22 S. 2020
WHEREAS, the President confirmed and adopted under Executive Order No. 112 s. 2020 dated 30 April 2020, the Omnibus Guidelines on the Implementation of Community Quarantine dated 29 April 2020 as recommended by the Inter-Agency Task Force for the Management of Emerging Infectious Diseases (IATF) to harmonize and codify existing polices of the IATF and member-agencies pertaining to community quarantine;
WHEREAS, the IATF issued the Revised Omnibus Guidelines on 15 May 2020 providing, among others, guidelines governing areas under Modified Enhanced Community Quarantine (MECQ) and Modified General Community Quarantine (MGCQ) and further revised the same on 22 May 2020 and 03 June 2020 to streamline rules which will be applicable to transitional community quarantine classifications;
WHEREAS, under the said Omnibus Guidelines, as revised, DTI was mandated to determine and specify the business activities falling under Category I, II, Ill, and IV Industries and implement the gradual increase of operational capacity without diminution of the current operational capacity previously allowed;
WHEREAS, pursuant to the said Omnibus Guidelines on Community Quarantine, DTI issued Memorandum Circular No. 20-22 s. 2020 dated 5 May 2020 identifying the business establishments allowed to operate in areas declared under ECQ and GCQ;
WHEREFORE, foregoing premises considered, MC 20-22 s. 2020 is hereby amended and the following are hereby prescribed and provided:
SEC. 1. Scope. These guidelines shall apply nationwide to all business activities allowed to operate in areas declared under community quarantine.
SEC. 2. Revised Category I-IV Business Establishments or Activities.  Annexed to this Circular is the revised list of business establishments or activities under Category I- IV, based on the categorization provided under the Revised Omnibus Guidelines on Community Quarantine.
No presumption shall arise as to the exclusivity of the enumeration of business establishments or activities annexed to this Circular. The Department may update the annexed list to add or limit the coverage of business activities and establishments under them as the need arises.
SEC. 3. Movement of Workers. Quarantine control points (QCPs) or checkpoints shall Permit the movement of workers of business establishments or activities allowed to operate. 'Provided that, workers may be asked to present their company identification cards, certificate of employment (COE) or previously issued IATF IDs to allow passage. Further, Rapid Pass shall not be required.
Receiving local government units (LGUs) shall not require nor impose mandatory fourteen (14) day quarantine to workers upon entering their jurisdiction. This will also apply to receiving LGUs that have a different community quarantine classification from the worker's point of origin.
Due to the reduced capacity of public transportation and to further limit people movement, business establishments allowed to operate in areas under community quarantine are encouraged to provide shuttle services to their workers.
SEC. 4. High Risk Groups. In areas declared under ECQ, MECQ, and GCQ, the following individuals, shall not be allowed to be outside of their residences, except for the purpose of reporting to work in permitted industries and offices and when indispensable under the circumstances for obtaining essential goods and services:
a) those with ages between 18 – 21 years aid;
b) those 60 years old and above;
c) those with immunodeficiency, comorbidities or other health risk;
e) any person who resides with the aforementioned
Business establishments in areas declared under ECQ, MECQ, and GCQ are highly encouraged to adopt alternative work arrangements, e.g., work from home, for workers belonging to this group.
SEC. 5. Compliance with Required Public Health Standards. Business establishments allowed to operate shall strictly implement the required public health standards prescribed under DOH for of ices/workplaces under Administrative Order No. 2020-0015 s. 2020 dated 27 April 2020, DTI-DOLE Joint Interim Guidelines on Workplace Prevention and Control of COVID-19, and any issued protocols for specific sectors. 
Business establishments are also directed to report or notify public health authorities of workers who show signs or symptoms of Coronavirus Disease 2019 (COVID-19). Further, in cases that their workers have been exposed to COVID-19, the business establishment must implement contact tracing in coordination with the DOH and the LGU concerned.
SEC. 6. Separability Clause. If for any reason, any part or provision of this Circular be declared invalid, any part or provision not affected thereby, shall remain in full force and effect.
SEC. 7. Effectivity. Given the presence of a public health emergency, this Memorandum Circular shall take effect immediately upon its publication and filing with the University of the Philippines Law Center and shall remain in effect until the state of public health emergency is lifted.
Issued on 8 June 2020.
RAMON M. LOPEZ, Secretary
[SEE ANNEX: DETAILED LIST OF BUSINESS ESTABLISHMENTS UNDER CATEGORIES I TO IV]