Insolvency proceedings may refer to voluntary or involuntary proceedings for individual debtors (see Voluntary or involuntary liquidation) or juridical entities (see Liquidation proceedings). The rules on determination of claims are common in all these proceedings, as provided under Republic Act No. 10142, also known as the "Financial Rehabilitation and Insolvency Act (FRIA) of 2010", and fleshed out in the FLSP Rules. For purposes of these common provisions, the term "debtor" includes individual debtors and other juridical debtors.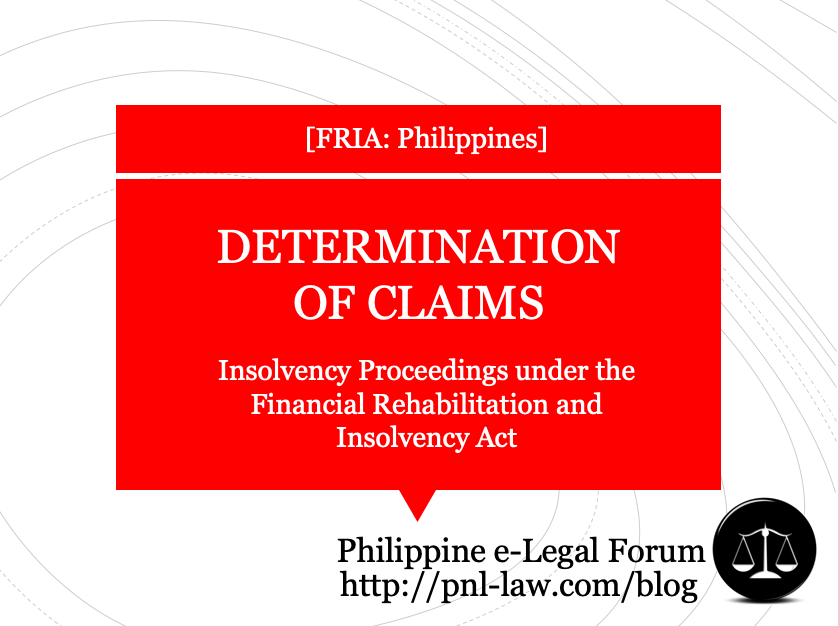 Claim refers to all claims or demands of whatever nature or character against the debtor or its property, whether for money or otherwise, liquidated or unliquidated, fixed or contingent, matured or unmatured, disputed or undisputed.
RIGHT OF SET-OFF
If the debtor and creditor are mutually debtor and creditor of each other, one debt shall be set off against the other and only the balance, if any, shall be allowed in the liquidation proceedings.
OPPOSITION OR CHALLENGE TO CLAIMS
Within 30 days from the expiration of the period for the filing of claims, a creditor, debtor, or other interested party may submit to the court an opposition or challenge to any claim or claims, serving a certified copy on the liquidator and the creditor holding the challenged claim.
Upon the expiration of the period, the liquidator shall submit to the court the registry of claims containing the undisputed claims that have not been subject to challenge. Such claims shall become final upon the filing of the register and may be subsequently set aside only on grounds of fraud, accident, mistake or excusable neglect.
SUBMISSION OF DISPUTED CLAIMS TO THE COURT
The liquidator shall resolve disputed claims and submit his findings thereon to the court for final approval. The liquidator may disallow claims, subject to final approval of the court.