Voluntary liquidation, as opposed to involuntary liquidation, refers to a proceeding initiated by the debtor. An insolvent individual debtor may ask the court for protection, through an action for suspension of payments or voluntary liquidation. Creditors of insolvent debtors, on the other hand, have the option of filing a petition for involuntary liquidation of the insolvent individual debtor. This discussion covers only voluntary liquidation in insolvency under Republic Act No. 10142, also known as the "Financial Rehabilitation and Insolvency Act (FRIA) of 2010", as fleshed out in the FLSP Rules. Moreover, the discussion below on voluntary insolvency proceedings applies only to individual debtors.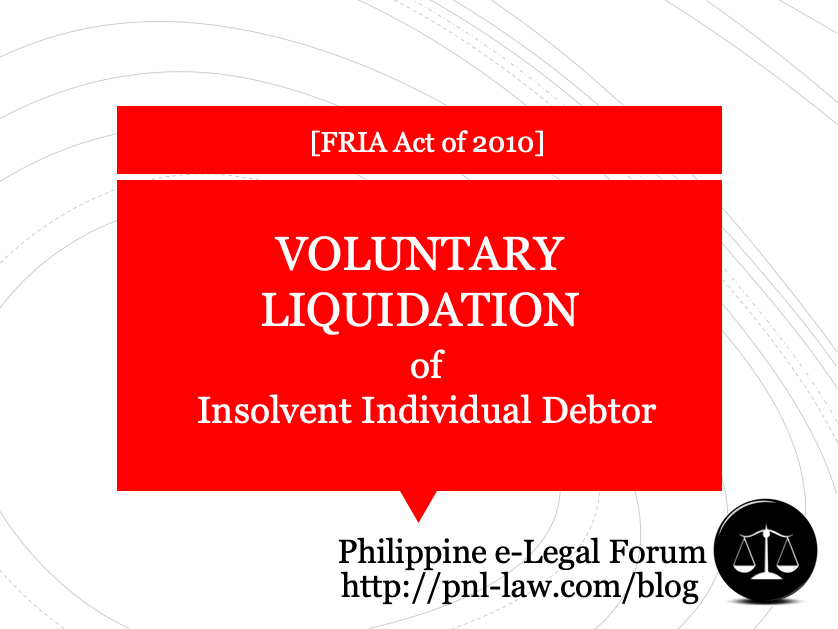 WHO MAY FILE PETITION
An individual debtor whose properties are not sufficient to cover his liabilities, and owing debts exceeding P500,000, may apply to be discharged from his debts and liabilities by filing a verified petition with the court of the province or city in which he has resided for 6 months prior to the filing of such petition. [See also Jurisdiction]
[See also Cross-Border Rehabilitation and Insolvency: Actions of Foreign Creditors and Enforcement Framework of Foreign Proceedings in the Philippines]
CONTENTS OF PETITION
The petition shall indicate the names of at least 3 nominees to the position of liquidator and shall include, as minimum attachments, the following:
(a) a schedule of debts and liabilities, including a list of creditors with their addresses, amount of claims and collaterals, if any;
(b) an inventory of all the debtor's assets, including receivables and claims against third parties;
(c) a schedule of current income and expenditures within 3 months prior to the filing of the petition;
(d) the income tax return of the debtor for the immediately preceding year;
(e) a list of all properties acquired by the debtor in the immediately preceding 2 years;
(f) a list of all properties sold, disposed of, or donated by the debtor in the immediately preceding 2 years; and
(g) a schedule of the debtor's executory contracts and unexpired leases.
All attachments to the petition shall be deemed part and parcel of the verified petition.
[See also Introduction to Insolvency in the Philippines: Suspension of Payments, Financial Rehabilitation and Liquidation]
ACTION ON THE PETITION
If the court finds the petition sufficient in form and substance, it shall issue the Liquidation Order. Otherwise, the court shall dismiss the petition. The court may take any action necessary for the foregoing purposes but it shall have a maximum period of 10 working days from the date of the filing of the petition to: (a) issue the Liquidation Order; or (b) dismiss the petition.