Insolvency is defined as the financial incapacity of debtors to pay their liabilities as they fall due in the ordinary course of business, or whenever their liabilities are greater than their assets. A debtor may refer to an individual debtor (natural persons) or juridical persons. The Philippines has specific rules for different proceedings affecting insolvent debtors and their creditors.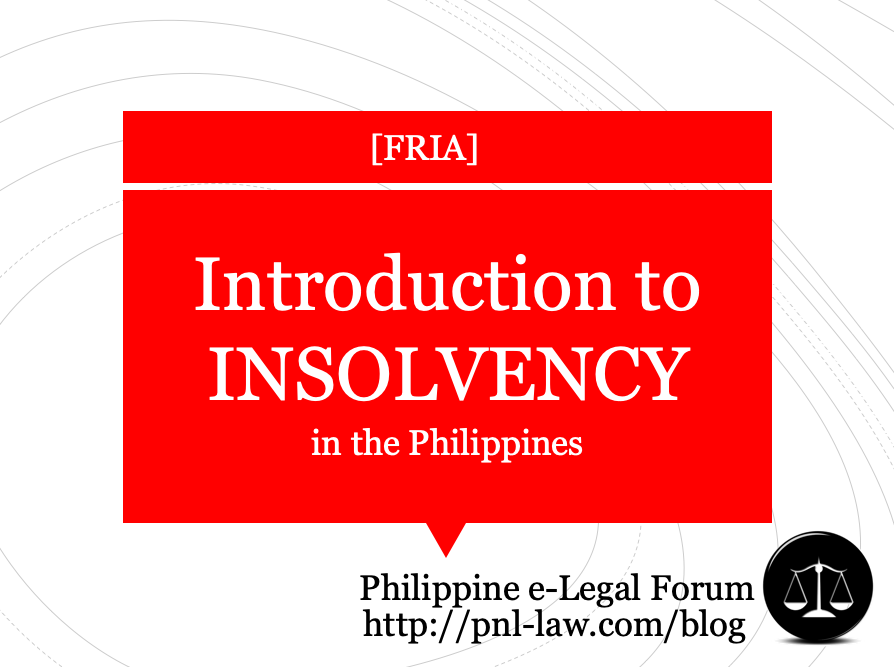 BRIEF HISTORY
The Insolvency Law (Act No. 1956), which became law in 1909, was the governing law covering suspension of payments and insolvency proceedings, both voluntary and involuntary, for both individuals and juridical persons.
Corporate rehabilitation traces its roots to the Insolvency Act, which, as noted above, includes proceedings for suspension of payments when a debtor foresees the impossibility of meeting its debts when they fall due. The purpose of corporate rehabilitation is to resuscitate the debtor. Rehabilitation is the opposite of liquidation. In rehabilitation, corporations have to maintain their assets to continue business operations. In liquidation, corporations preserve their assets in order to sell them.
Corporate rehabilitation was also provided in Presidential Decree No. 902-A, reorganizing the Securities and Exchange Commission (SEC). In 2000, the jurisdiction of SEC over corporate rehabilitation proceedings was transferred to regular courts, as provided in the Securities Regulation Code. Also in 2000, the Supreme Court approved the Interim Rules of Procedure on Corporate Rehabilitation, which provides a summary and non-adversarial proceeding to expedite the resolution of cases for the benefit of the corporation in need of rehabilitation, its creditors, and the public in general.
INSOLVENCY ACT REPEALED BY FRIA
The Insolvency Law was expressly repealed by Republic Act No. 10142, also known as the Financial Rehabilitation and Insolvency Act of 2010 (FRIA), which provides the procedure for different types of rehabilitation and liquidation proceedings.
Jurisdiction over liquidation, suspension of payments and corporate rehabilitation remains with the regular courts. The procedure and requirements are fleshed out in the Financial Rehabilitation Rules of Procedure or the "FR Rules" (A.M. No. 12-12-11-SC) and the Financial Liquidation and Suspension of Payments Rules of Procedure for Insolvent Debtors or the "FLSP Rules" (A.M. No. 15-04-06-SC).
DECLARED POLICY OF THE FRIA
The FRIA states that it is the policy of the State to encourage debtors, both juridical and natural persons, and their creditors to collectively and realistically resolve and adjust competing claims and property rights. For this purpose, the State shall ensure a timely, fair, transparent, effective and efficient rehabilitation or liquidation of debtors.
The rehabilitation or liquidation shall be made with a view to ensure or maintain certainty and predictability in commercial affairs, preserve and maximize the value of the assets of these debtors, recognize creditor rights and respect priority of claims, and ensure equitable treatment of creditors who are similarly situated.
When rehabilitation is not feasible, it is in the interest of the State to facilitate a speedy and orderly liquidation of these debtors' assets and the settlement of their obligations.
PROCEEDINGS UNDER THE FRIA
There are three distinct remedies available to insolvent debtors/creditors under the FRIA and the pertinent procedures, all of which are under the jurisdiction of special commercial courts. These remedies are:
1.
Suspension of Payments
Only individual debtors (natural persons) may file a petition for suspension of payments. This remedy is available when the individual debtor has assets that exceed his/her liabilities, but foresees the impossibility of paying his debts when they respectively fall due. Suspension of payments may be voluntary (filed by the debtor) or involuntary (filed by the creditors). The available remedy for corporations and other juridical debtors is financial rehabilitation, discussed below.
2.
Financial Rehabilitation
Rehabilitation is the restoration of the juridical debtor to a condition of successful operation and solvency, if it is shown that its continuance of operation is economically feasible and its creditors can recover by way of the present value of payments projected in the plan, more if the debtor continues as a going concern than if it is immediately liquidated. There are three kinds of rehabilitation proceedings, covered by separate set of rules:
Provisions common to voluntary/involuntary court-supervised rehabilitation proceedings:
3.
Liquidation
An insolvent juridical debtor may file a verified petition for liquidation in the Regional Trial Court which has jurisdiction over its principal office as specified in its articles of incorporation or partnership. Liquidation of insolvent juridical debtors may be voluntary (filed by the debtor) or involuntary (filed by creditors).
For individual debtors, liquidation proceedings may be filed when liabilities exceed assets, and the total debts exceed P500,000. There are separate rules for voluntary liquidation (filed by the debtor) and involuntary liquidation (filed by creditors).
Provisions common to liquidation in insolvency of individual and juridical debtors:
[See also Cross-Border Rehabilitation and Insolvency: Actions of Foreign Creditors and Enforcement Framework of Foreign Proceedings in the Philippines; Financial Rehabilitation Rules of Procedure (A.M. No. 12-12-11-SC); Financial Liquidation and Suspension of Payments Rules of Procedure for Insolvent Debtors (A.M. No. 15-04-06-SC); Viva Shipping Lines vs. Keppel Philippines Mining, G.R. No. 177382, 17 February 2016.]