Philippine start-ups, micro, small and medium enterprises (MSMEs) may raise funds through crowdfunding, which basically involves issuers selling their securities through an online electronic platform pursuant to the Securities Regulation Code. Raising capital through crowdfunding is separate from loans or venture capital. Crowdfunding is done outside the local stock exchange.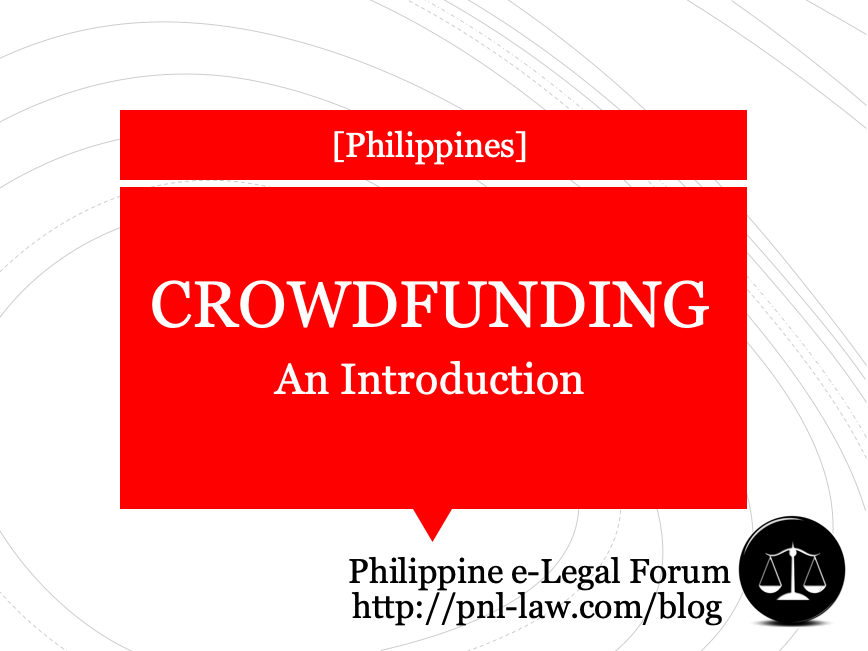 The continuous advancement of information and communication technology and the globalization of financial markets, facilitate innovative financial environment. This includes fund raising through internet platforms such as crowdfunding, the Securities and Exchange Commission (SEC) notes in SEC Memorandum Circular No. 14, providing for the Rules and Regulations Governing Crowdfunding (CF), which we shall refer to as "Crowdfunding Rules".
To summarize the Crowdfunding Rules in one sentence: crowdfunding is valid only when done through a registered platform operated by a registered intermediary, handling transactions involving securities of registered issuers. With this in mind, it is more convenient to divide this post into three segments: (a) who may seek funding; (b) what may be sold to raise funds; (c) who may invest; and (d) how the crowdfunding platform works. Further discussions for related topics are linked in the text, so as not to clutter this general discussion on crowdfunding.
I. WHO MAY SEEK FUNDING
Crowdfunding is the sale of securities of a limited scale usually for start-ups, micro, small and medium enterprises (MSMEs) done through an online electronic platform. Crowdfunding, however, is not limited to these entities. It is available to any issuer, which refers to the originator, maker, obligor, or creator of the security which shall be registered with the intermediary. To be authorized to sell securities through crowdfunding, the issuer must:
(a) Be a Filipino national. The Crowdfunding Rules requires that the issuer must be an entity organized under the laws of the Philippines or a Filipino natural person.
II. WHAT MAY BE SOLD TO RAISE FUNDS
As a rule, securities cannot be sold or offered for sale within the Philippines without a registration statement filed with and approved by the SEC (SRC, Sec. 8). The SEC, however, is authorized to exempt securities transactions from registration if it finds that registration is not necessary, as when there is a limited character of the public offering (SRC, Sec. 10.2).
Crowdfunding covers "securities". These are shares, participation or interests in a corporation or in a commercial enterprise or profit-making venture and evidenced by a certificate, contract, instruments, whether written or electronic in character. It includes:
(a) Shares of stocks, bonds, debentures, notes evidences of indebtedness, asset-backed securities;
(b) Investment contracts, certificates of interest or participation in a profit sharing agreement, certifies of deposit for a future subscription;
(c) Fractional undivided interests in oil, gas or other mineral rights;
(e) Certificates of assignments, certificates of participation, trust certificates, voting trust certificates or similar instruments
(f) Proprietary or nonproprietary membership certificates in corporations; and
There is an annual limit to the value of securities that issuers may sell. The aggregate amount of securities that can be offered and sold by issuer within a 12-month period shall comply with the following limits:
i. Offering of securities with an aggregate value of up to P10M within a 12-month period can be offered and sold to any investor;
ii. Offering of securities with an aggregate value of above P10M but not exceeding P50M, within a 12-month period can only be offered and sold to qualified investors.
III. WHO MAY INVEST
Users, also called retail investors or qualified investors, must register with the platform to be able to purchase securities offerings. The requirements for crowdfunding transactions require that before registration, users must be given educational materials, including a reminder that the entire amount of his/her investment may be lost.
There is a cap or maximum amount which an investor may purchase in crowdfunding during a 12-month period, as follows:
Intermediaries are required to keep track of these limits per user. [See also Crowdfunding: Eligibility for Exemption from Registration of Securities]
IV. THE CROWDFUNDING PLATFORM
The online electronic platform used for crowdfunding is controlled by a registered intermediary, which may be a: (a) registered broker; (b) investment house; or (c) funding portal. A funding portal, when registered as such, is exempted from the requirement to register as a broker or investment house.
The crowdfunding intermediary must be registered as such and must not possess any of the grounds for disqualification. The registration as a broker, investment house or funding portal does not automatically authorize these entities to act as a crowdfunding intermediary.
The intermediary must comply with ongoing obligations and prudential requirements, and must institute measures to reduce the risk of fraud. It must strictly comply with the requirements on account opening, as well as the requirements with respect to crowdfunding transactions, and the completion of offerings, cancellations and reconfirmations. The intermediary has a number of permitted activities, including the authority to, among others, determine whether and under what terms to allow an issuer to offer and sell securities in reliance on the Crowdfunding Rules through its platform.
To reiterate, crowdfunding is valid only when done through a registered platform operated by a registered intermediary, handling transactions involving securities of registered issuers. Similar crowdfunding done through medium other that online electronic platform may not avail of the exemption from registration of securities pursuant to the Crowdfunding Rules.
There is a deadline for securities offerings, and the amount of subscription must reach a target on or before the deadline. If the target amount is not reached, the offering is cancelled and the investors' payments are reimbursed. [See Completion of Offerings, Cancellations and Reconfirmations]