Insolvent debtors, both individual and juridical, are covered by Republic Act No. 10142 ("Financial Rehabilitation and Insolvency Act (FRIA) of 2010"). Individual debtor refers to a natural person who is a resident and citizen of the Philippines that has become insolvent, while juridical debtor refers to: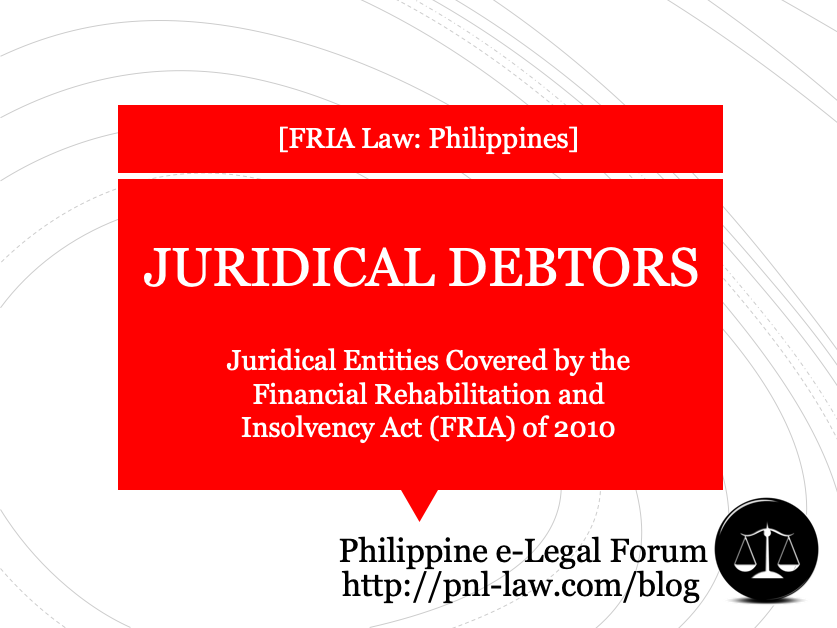 a sole proprietorship duly registered with the Department of Trade and Industry (DTI);
a partnership duly registered with the Securities and Exchange Commission (SEC); or
a corporation duly organized and existing under Philippine laws.
However, the following are not considered juridical debtors under R.A. 10142:
Banks – any duly licensed bank or quasi-bank that is potentially or actually subject to conservatorship, receivership or liquidation proceedings under the New Central Bank Act (Republic Act No. 7653) or successor legislation.
Insurance companies – companies that are potentially or actually subject to insolvency proceedings under the Insurance Code (Presidential Decree No. 1460) or successor legislation.
Pre-need companies – any corporation authorized/licensed to sell or offer to sell pre-need plans.
National and local government agencies or units.
Government financial institutions (GFIs) other than banks, and government-owned or -controlled corporations (GOCCs) are covered by R.A. 10142, unless their specific charter provides otherwise.
[See proceedings for juridical debtors: Liquidation; Out-of-court or informal restructuring agreements or rehabilitation plans; Pre-negotiated rehabilitation; and, Court-supervised rehabilitation proceedings]
SUBSTANTIVE AND PROCEDURAL CONSOLIDATION
Each juridical entity shall be considered as a separate entity. Under these proceedings, the assets and liabilities of a debtor may not be commingled or aggregated with those of another, unless the latter is a related enterprise that is owned or controlled directly or indirectly by the same interests.
The commingling or aggregation of assets and liabilities of the debtor with those of a related enterprise may only be allowed where:
(a) there was commingling in fact of assets and liabilities of the debtor and the related enterprise prior to the commencement of the proceedings;
(b) the debtor and the related enterprise have common creditors and it will be more convenient to treat them together rather than separately;
(c) the related enterprise voluntarily accedes to join the debtor as party petitioner and to commingle its assets and liabilities with the debtor's; and
(d) The consolidation of assets and liabilities of the debtor and the related enterprise is beneficial to all concerned and promotes the objectives of rehabilitation.
The court may join other entities affiliated with the debtor as parties pursuant to the rules of procedure promulgated by the Supreme Court.