The issue of consent, or the lack of it, is essential in rape cases. In marriage, sexual community is a mutual right and obligation between husband and wife. Sexual intercourse is theoretically consensual, obligatory even, between husband and wife. Copulation is presumed between cohabiting husband and wife unless the contrary is proved. This is the argument of the accused in People vs. Jumawan (G.R. No. 187495, 21 April 2014). The extensive discussion on marital rape in this case warrants a near-verbatim reproduction of the Supreme Court's decision.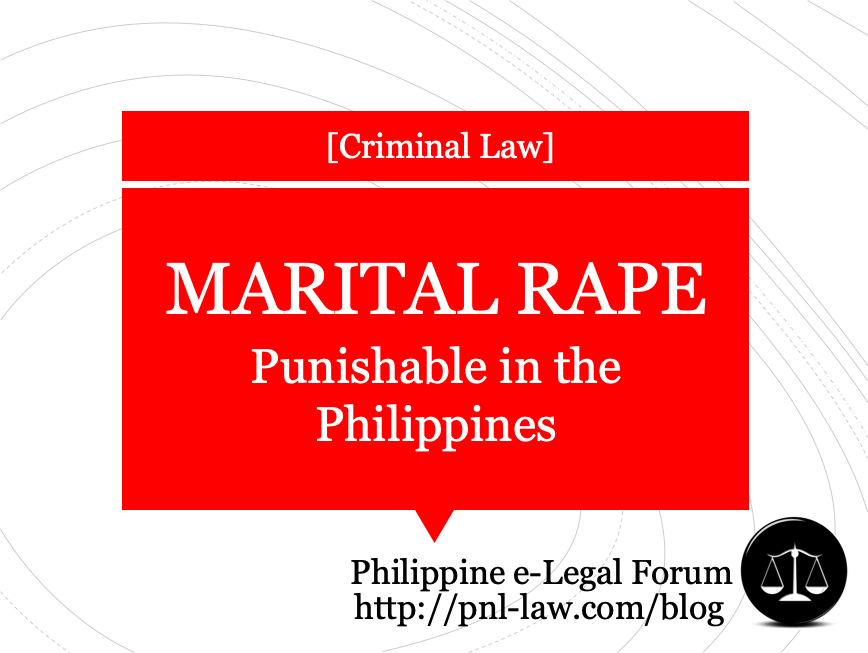 [See also Salient Points of the Anti-Rape Law of 1997]
I. RAPE AND MARRIAGE: THE HISTORICAL CONNECTION
The evolution of rape laws is actually traced to two ancient English practices of "bride capture" whereby a man conquered a woman through rape and "stealing an heiress" whereby a man abducted a woman and married her.
The rape laws then were intended not to redress the violation of the woman's chastity but rather to punish the act of obtaining the heiress' property by forcible marriage or to protect a man's valuable interest in his wife's chastity or her daughter's virginity. If a man raped an unmarried virgin, he was guilty of stealing her father's property and if a man raped his wife, he was merely using his property.
Women were subjugated in laws and society as objects or goods. and such treatment was justified under three ideologies.
Chattel theory, prevalent during the 6th century. A woman was the property of her father until she marries to become the property of her husband. If a man abducted an unmarried woman, he had to pay the owner, and later buy her from the owner; buying and marrying a wife were synonymous.
Feudal doctrine of coverture, prevalent from the 11th century to the 16th century. A woman lost her identity upon marriage and the law denied her political power and status. A husband had the right to chastise his wife and beat her if she misbehaved, allowing him to bring order within the family.
Marital unity theory, which espoused a similar concept. Upon marrying, the woman becomes one with her husband. She had no right to make a contract, sue another, own personal property or write a will.
II. THE MARITAL EXEMPTION RULE
In the 17th century, Sir Matthew Hale, a Chief Justice in England, conceived the irrevocable implied consent theory that would later on emerge as the marital exemption rule in rape. He stated that "the husband cannot be guilty of a rape committed by himself upon his lawful wife, for by their mutual matrimonial consent and contract the wife hath given up herself in this kind unto her husband, which she cannot retract."
The rule was observed in common law countries such as the United States of America (USA) and England. It gives legal immunity to a man who forcibly sexually assaults his wife, an act which would be rape if committed against a woman not his wife.
In the 1970s, the rule was challenged by women's movements in the USA demanding for its abolition for being violative of married women's right to be equally protected under rape laws. In 1983, the marital exemption rule was abandoned in New York when the Court of Appeals of New York declared the same unconstitutional, for lack of rational basis in distinguishing between marital rape and non-marital rape. The decision also renounced Hale's irrevocable implied consent theory.
By 1993, marital rape was a crime in all 50 states, with 17 of them, as well as the District of Columbia, outlawing the act without exemptions.
III. MARITAL RAPE IN THE PHILIPPINES
Interestingly, no documented case on marital rape has ever reached the Supreme Court until this case. It appears, however, that the old provisions of rape under Article 335 of the Revised Penal Code (RPC) adhered to Hale's irrevocable implied consent theory, albeit in a limited form. According to Chief Justice Ramon C. Aquino, a husband may not be guilty of rape under Article 335 of Act No. 3815 but, in case there is legal separation, the husband should be held guilty of rape if he forces his wife to submit to sexual intercourse.
In 1981, the Philippines joined 180 countries in ratifying the United Nations Convention on the Elimination of all Forms of Discrimination Against Women (UN-CEDAW). Hailed as the first international women's bill of rights, the CEDAW is the first major instrument that contains a ban on all forms of discrimination against women. The Philippines assumed the role of promoting gender equality and women's empowerment as a vital element in addressing global concerns.
In compliance with the foregoing international commitments, the Philippines enshrined the principle of gender equality in the 1987 Constitution specifically in Sections 11 and 14 of Article II thereof.
The Legislature then pursued the enactment of laws to propagate gender equality. In 1997, Republic Act No. 8353 eradicated the stereotype concept of rape in Article 335 of the RPC. The law reclassified rape as a crime against person and removed it from the ambit of crimes against chastity.
Perhaps the law's most progressive proviso is the 2nd paragraph of Section 2 thereof recognizing the reality of marital rape and criminalizing its perpetration, viz:
Article 266-C. Effect of Pardon. – The subsequent valid marriage between the offended party shall extinguish the criminal action or the penalty imposed.

In case it is the legal husband who is the offender, the subsequent forgiveness by the wife as the offended party shall extinguish the criminal action or the penalty: Provided, That the crime shall not be extinguished or the penalty shall not be abated if the marriage is void ab initio.
Read together with Section 1 of the law, which unqualifiedly uses the term "man" in defining rape, it is unmistakable that R.A. No. 8353 penalizes the crime without regard to the rapist's legal relationship with his victim, thus:
Article 266-A. Rape: When And How Committed. – Rape is committed:

1) By a man who shall have carnal knowledge of a woman under any of the following circumstances:

a) Through force, threat, or intimidation;

b) When the offended party is deprived of reason or otherwise unconscious;

c) By means of fraudulent machination or grave abuse of authority; and

d) When the offended party is under twelve (12) years of age or is demented, even though none of the circumstances mentioned above be present.
The explicit intent to outlaw marital rape is deducible from the records of the deliberations in Congress. In spite of qualms on tagging the crime as 'marital rape' due to conservative Filipino impressions on marriage, the consensus of our lawmakers was clearly to include and penalize marital rape under the general definition of 'rape'.
The paradigm shift on marital rape in the Philippine jurisdiction is further affirmed by R.A. No. 9262, which regards rape within marriage as a form of sexual violence that may be committed by a man against his wife within or outside the family abode.
Clearly, it is now acknowledged that rape, as a form of sexual violence, exists within marriage. A man who penetrates her wife without her consent or against her will commits sexual violence upon her, and the Philippines defines and penalizes the act as rape under R.A. No. 8353.
A woman is no longer the chattel-antiquated practices labeled her to be. A husband who has sexual intercourse with his wife is not merely using a property, he is fulfilling a marital consortium with a fellow human being with dignity equalto that he accords himself. He cannot be permitted to violate this dignity by coercing her to engage in a sexual act without her full and free consent. Surely, the Philippines cannot renege on its international commitments and accommodate conservative yet irrational notions on marital activitiesthat have lost their relevance in a progressive society.
It is true that the Family Code, obligates the spouses to love one another but this rule sanctions affection and sexual intimacy, as expressions of love, that are both spontaneous and mutualand not the kind which is unilaterally exacted by force or coercion.
Further, the delicate and reverent nature of sexual intimacy between a husband and wife excludes cruelty and coercion. Sexual intimacy brings spouses wholeness and oneness. It is a gift and a participation in the mystery of creation. It is a deep sense of spiritual communion. It is a function which enlivens the hope of procreation and ensures the continuation of family relations. It is an expressive interest in each other's feelings at a time it is needed by the other and it can go a long way in deepening marital relationship.
When it is egoistically utilized to despoil marital union in order to advance a felonious urge for coitus by force, violence or intimidation, the Court will step in to protect its lofty purpose, vindicate justice and protect our laws and State policies. Besides, a husband who feels aggrieved by his indifferent or uninterested wife's absolute refusal to engage in sexual intimacy may legally seek the court's intervention to declare her psychologically incapacitated to fulfill an essential marital obligation.But he cannot and should not demand sexual intimacy from her coercively or violently.
Moreover, to treat marital rape cases differently from non-marital rape cases in terms of the elements that constitute the crime and in the rules for their proof, infringes on the equal protection clause. The Constitutional right to equal protection of the laws ordains that similar subjects should not be treated differently, so as to give undue favor to some and unjustly discriminate against others; no person or class of persons shall be denied the same protection of laws, which is enjoyed, by other persons or other classes in like circumstances.
As discussed, the definition of rape in Section 1 of R.A. No. 8353 pertains to: (a) rape, as traditionally known; (b) sexual assault; and (c) marital rape or that where the victim is the perpetrator's own spouse. The single definition for all three forms of the crime shows that the law does not distinguish between rape committed in wedlock and those committed without a marriage. Hence, the law affords protection to women raped by their husband and those raped by any other man alike.
A marriage license should not be viewed as a license for a husband to forcibly rape his wife with impunity. A married woman has the same right to control her own body, as does an unmarried woman. She can give or withhold her consent to a sexual intercourse with her husband and he cannot unlawfully wrestle such consent from her in case she refuses.
Lastly, the human rights of women include their right to have control over and decide freely and responsibly on matters related to their sexuality, including sexual and reproductive health, free of coercion, discrimination and violence.Women do not divest themselves of such right by contracting marriage for the simple reason that human rights are inalienable.
Indeed, there exists no legal or rational reason for the Court to apply the law and the evidentiary rules on rape any differently if the aggressor is the woman's own legal husband. The elements and quantum of proof that support a moral certainty of guilt in rape cases should apply uniformly regardless of the legal relationship between the accused and his accuser.