The distribution of social amelioration programs would have been quicker if the rollout of the national identification (ID) system was completed, some commentators say. The national ID system was established under a 2018 law, Republic Act No. 11055 (also known as the "Philippine Identification System Act"). This is a primer of R.A. 11055.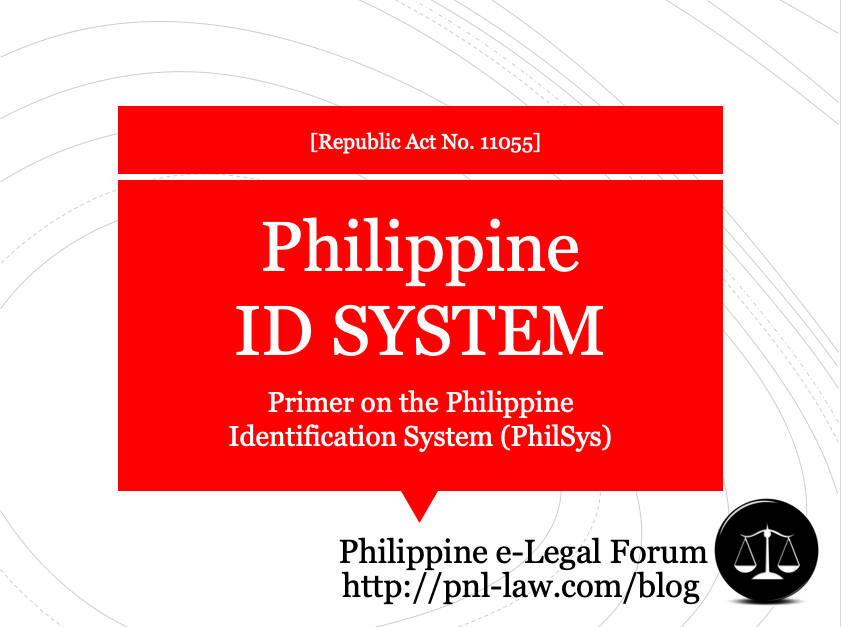 COVERAGE
The Philippine Identification System (PhilSys) applies to all natural persons in all transactions where the PhilSys Number, Philippine Identification (PhilID), or biometric information is required, presented or used, whether legally or illegally, within or outside the Philippines.
The PhilID is a non-transferable card issued to all citizens or resident aliens registered under the PhilSys.
Citizen refers to a Filipino citizen, as defined in the Constitution, including those with dual or multiple citizenships in accordance with Republic Act No. 9225, otherwise known as the "Citizenship Retention and Re-acquisition Act of 2003".
Resident alien refers to an individual who is not a citizen of the Philippines but has established residence in the Philippines for an aggregate period of more that one hundred eighty (180) days.
PhilSys Number (PSN) is a randomly generated, unique, and permanent identification number that will be assigned to every citizen or resident alien upon birth or registration by the PSA.
OBJECTIVES
The PhilSys shall primarily established to provide a valid proof of identity for all citizens and resident aliens as a means of simplifying public and private transactions. The PhilSys is also a social and economic platform through which all transactions including public and private services can be availed of and shall serve as the link in the promotion of seamless service delivery, enhancing administrative governance, reducing corruption, strengthening financial inclusion, and promoting ease of doing business.
FEATURES OF THE PHIL ID
The PhilID is the physical medium issued to convey essential information about the person's identity containing on its face the PSN, full name, sex, blood type, marital status (optional), place of birth, a front facing photograph, date of birth, and address of the individual in whose favor it was issued. All information appearing in the PhilID should match with the registered information in the PhilSys. The PhilID contains a QR Code which contains some fingerprint information and other security features as safeguards for data privacy and security, and prevention against the proliferation of fraudulent or falsified identification cards.
PHILSYS REGISTRY DATA
Information to be collected and stored under the PhilSys shall be limited to the following:
(a) Demographic Data
(1) Full Name;
(2) Sex;
(3) Date of Birth;
(4) Place of Birth;
(5) Blood Type;
(6) Address;
(7) Filipino or Resident Alien;
(8) Marital Status (optional);
(9) Mobile Number (optional); and
(10) E-mail address (optional).
(b) Biometrics Information
(1) Front Facing Photograph;
(2) Full set of fingerprints;
(3) Iris scan; and
(4) If necessary, other indentifiable features of individual as may be deteremined in the implementing rules and regulations (IRR).
In case of visual or physical impairment that renders the capturing of the biometric information of the person applying for registration impossible, biometric exceptions shall be employed and allowed by the PSA. The PSA shall issue guidelines for the appropriate age for capturing the biometrics information of minors.
USE OF PHIL ID / PSN
The PhilID shall be honored and accepted, subject to authentication, in all transactions requiring proof or verification of citizens or resident aliens' identity, such as but not limited to:
(a) Application for eligibility and access to social welfare and benefits granted by the government;
(b) Application for services and benefits offered by the GSIS, SSS, PhilHealth, HDMF, and other government agencies;
(c) Application for passports and driver's license;
(d) Tax-related transactions;
(e) Registration and voting identification purposes;
(f) Admission to an government hospital, health center or similar institution;
(g) All other government transactions;
(h) Application for admission in schools, colleges, learning institutions and universities, whether public or private;
(i) Application and transaction for employment purposes;
(j) Opening of bank accounts and other transactions with banks and other financial institutions;
(k) Verification of cardholder's criminal records and clearances;
(l) Such other transactions, uses or purposes, as may be defined in the IRR.
The PSN and biometrics of an individual, as authenticated through the PhilSys, shall be honored and accepted, notwithstanding the absence or non-presentation of a PhilID.
LIMITATIONS
Proof of identity shall not necessarily be construed as proof of eligibility to avail of certain benefits and services which shall be determined based on applicable rules and regulations of the government authorities/agencies concerned. Issuance of the PSN and or PhilID shall not likewise be construed as inconvertible proof of citizenship.