Foreign investors who wish to do business in the Philippines has two options in terms of registration. Non-Filipinos can either: (a) secure a license to do business as a foreign corporation in the Philippines; OR (b) register a foreign-owned corporation in the Philippines. A variant of option (b) is to invest in an existing Philippine company.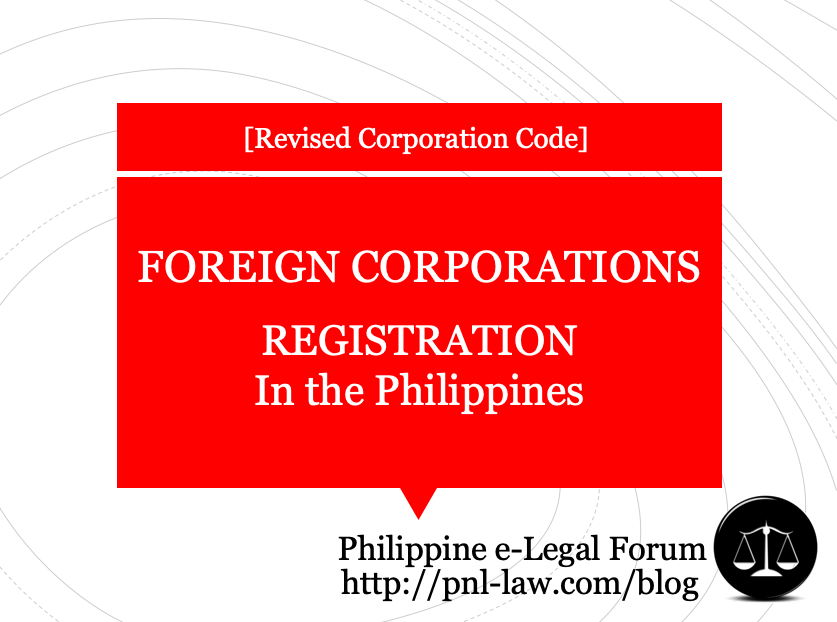 It is important to note that a non-Filipino is required to register with the SEC (or, for a sole proprietorship, with the Department of Trade and Industry [DTI]) only when it intends to do business in the Philippines. [See What constitutes "doing business" in the Philippines]
FOREIGN VS. DOMESTIC
It is also important to note that the distinction between a foreign corporation and a domestic corporation is based on the place of registration. A domestic company is registered in the Philippines in accordance with Philippine laws. A foreign corporation or partnership is formed, organized and existing under non-Philippine laws. A company registered in the Philippines, even if 100% owned by foreigners, is considered a domestic corporation. It is a foreign-owned domestic corporation.
A foreign-owned domestic corporation is registered just like any Philippine company, except that: (a) the documents submitted with SEC includes an application to do business under the Foreign Investment Act or Republic Act No. 7042; (b) the applicant corporation must comply with the required paid-up capital; and (c) the applicant corporation cannot engage in businesses covered by the Negative List. [See Doing Business in the Philippines: Registration Regulatory Framework for Foreign Companies]
FILIPINO NATIONAL
Nevertheless, a 100% foreign-owned corporation, even if considered a domestic company, is not considered as a Philippine national under Philippines laws. A corporation is considered a Filipino corporation if at least 60% of its capital stock outstanding and entitled to vote is owned and held by Filipino citizens.
NEGATIVE LIST
A Negative List, also called the Foreign Investments Negative List, is a list of areas of economic activity whose foreign ownership is limited to a maximum of forty percent (40%) of the outstanding capital stock in the case of a corporation or capital in the case of partnership. [See Eleventh Foreign Investments Negative List]
Outside the Negative List, foreign investors may own 100% of a domestic corporation.