Non-Filipinos, including foreign corporations are prohibited from doing business in the Philippines. The foreign corporation or partnership must secure the appropriate license from the Securities and Exchange Commission (SEC) and, in certain instances, from other government agencies.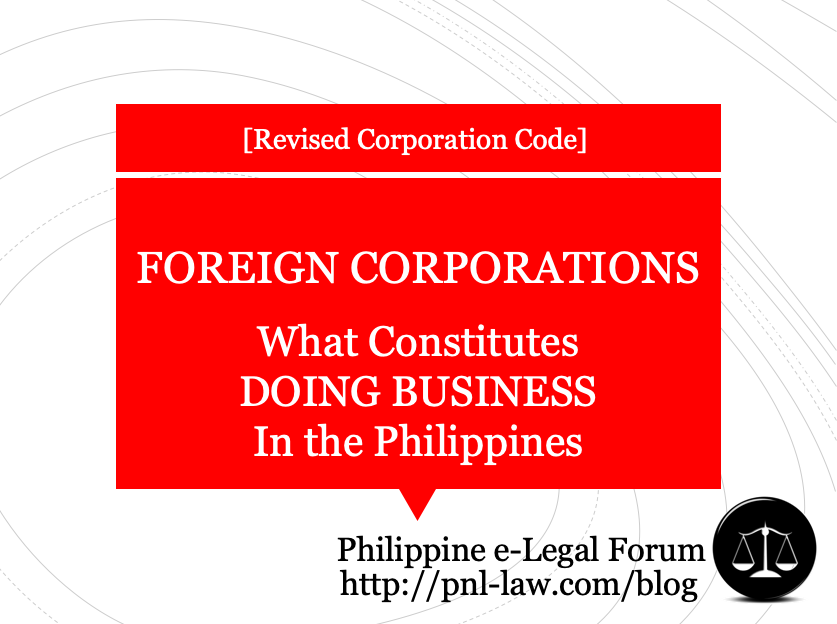 The Revised Corporation Code provides that no foreign corporation transacting business in the Philippines without a license, or its successors or assigns, shall be permitted to maintain or intervene in any action, suit or proceeding in any court or administrative agency of the Philippines; but such corporation may be sued or proceeded against before Philippine courts or administrative tribunals on any valid cause of action recognized under Philippine laws.
The phrase "doing business" is defined or characterized in the Foreign Investments Act of 1991 (Republic Act No. 7042, as amended by Republic Act No. 8179). The phrase "doing business" shall include:
soliciting orders, service contracts, opening offices, whether called "liaison" offices or branches;
appointing representatives or distributors domiciled in the Philippines or who in any calendar year stay in the country for a period or periods totalling one hundred eighty (180) days or more;
participating in the management, supervision or control of any domestic business, firm, entity or corporation in the Philippines;
and any other act or acts that imply a continuity of commercial dealings or arrangements, and contemplate to that extent the performance of acts or works, or the exercise of some of the functions normally incident to, and in progressive prosecution of, commercial gain or of the purpose and object of the business organization.
However, the phrase "doing business" shall not be deemed to include mere investment as a shareholder by a foreign entity in domestic corporations duly registered to do business, and/or the exercise of rights as such investor; nor having a nominee director or officer to represent its interests in such corporation; nor appointing a representative or distributor domiciled in the Philippines which transacts business in its own name and for its own account.