A foreign corporation who intends to register a Regional/Area Headquarters (RHQ) or Regional/Area Operating Headquarters (ROHQ) in the Philippines must comply with/file the specific requirements, enumerated and discussed below, with the Securities and Exchange Commission (SEC). The requirements are discussed below.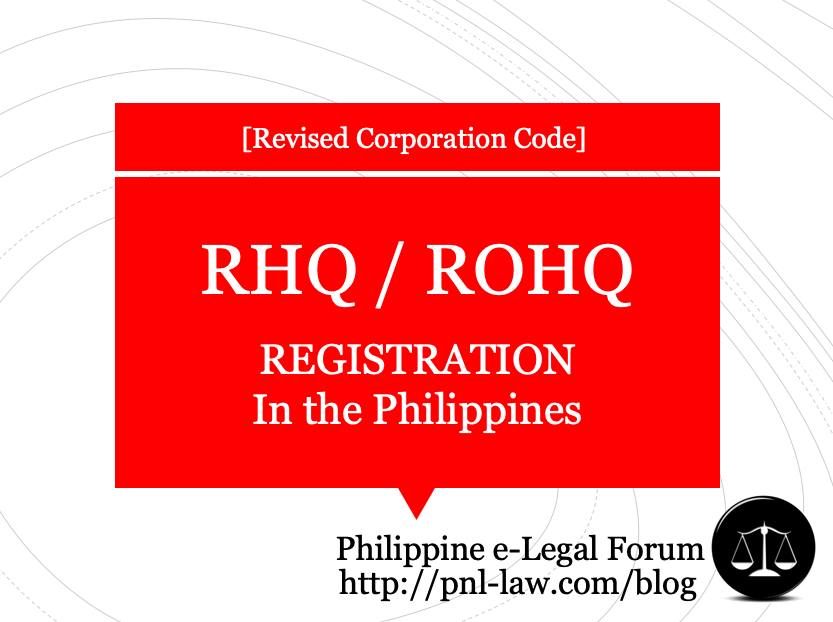 These requirements are based on the Revised Corporation Code and culled from the materials issued by the SEC:
1. Cover sheet
2. Name Verification Slip
3. Application Form
4. Certification from the Philippine Consulate/Embassy or the Philippine Commercial Office or from the equivalent office of the Philippine Department of Trade and Industry (DTI) in the applicant's home country that said foreign firm is an entity engaged in international trade with affiliates, subsidiaries or branch offices in the Asia Pacific Region and other foreign markets.
In case the Certification is issued by the equivalent office of the DTI, the same shall be authenticated by the Philippine Consulate/Embassy.
5. Authenticated Certification from principal officer of the foreign entity to the effect that the said foreign entity has been authorized by its board of directors or governing body to establish its RHQ/ROHQ.
7. Affidavit of undertaking to change corporate name (not required if already stated in the Application Form)
8. Endorsement of the Board of Investments (BOI).
9. Endorsement/Clearance from appropriate government agencies, if applicable .