Former natural-born Filipinos who retain or re-acquire Philippine citizenship under Republic Act No. 9225 ("Citizen Retention and Re-Acquisition Act of 2003") shall enjoy full rights enjoyed by any Filipino, subject to certain conditions enumerated below. Please note that the law covers only "natural-born" Filipinos (born of one or both parents who are Filipino citizens at the time of birth) who acquired foreign citizenship through naturalization.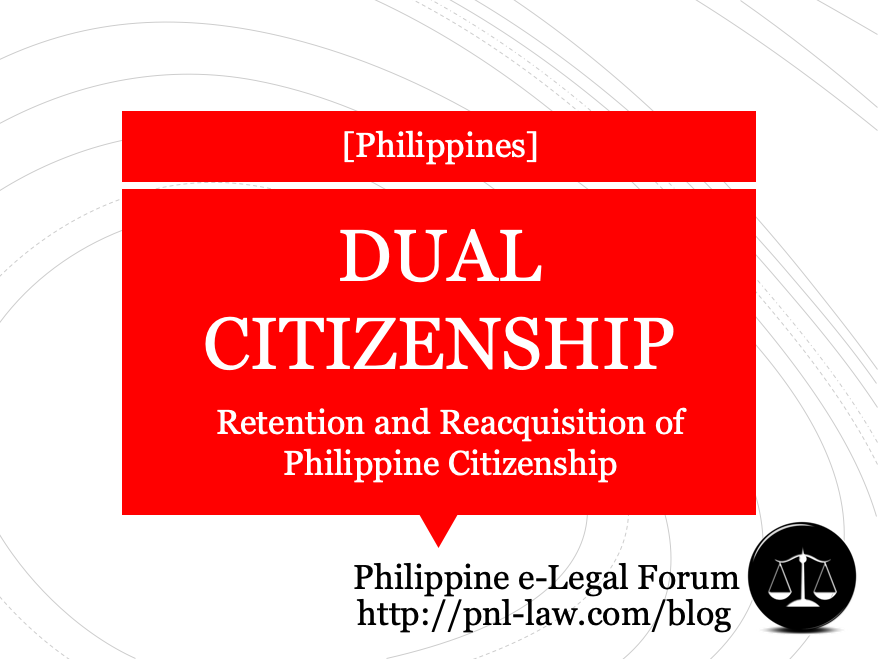 R.A. 9225 amends Commonwealth Act No. 63, which provides that a Filipino citizen may lose his/her Philippine citizenship:
1. By naturalization in a foreign country;
2. By express renunciation of citizenship;
3. By subscribing to an oath of allegiance to support the constitution or laws of a foreign country upon attaining twenty-one years of age or more;
4. By accepting commission in the military, naval or air service of a foreign country;
5. By cancellation of the certificate of naturalization;
6. By having been declared by competent authority, a deserter of the Philippine armed forces in time of war, unless subsequently, a plenary pardon or amnesty has been granted: and
7. In case of a woman, upon her marriage, to a foreigner if, by virtue of the laws in force in her husband's country, she acquires his nationality.
Former Filipinos who comply with the requirements under R.A. 9225 can now own land just like any Filipino. This means that they are no longer subject to the limitations under Batas Pambansa 185 (land for residential purposes up to 1,000 sq.m.) or under R.A. 8179, which amends R.A. 7042 (for investment purposes, a maximum of 5,000 for urban land or 3 hectares for rural land). [See Land Ownership by Former Natural-Born Filipinos]
They can also run for public office, provided that at the time of filing their certificates of candidacy, they renounce all foreign citizenship (as also provided in prevailing jurisprudence).
As mentioned above, the conditions are as follows:
Those intending to exercise their right of suffrage must meet the requirements under Section 1, Article V of the Constitution, Republic Act No. 9189, otherwise known as "The Overseas Absentee Voting Act of 2003" and other existing laws;
Those seeking elective public office in the Philippines shall meet the qualifications for holding such public office as required by the Constitution and existing laws and, at the time of the filing of the certificate of candidacy, make a personal and sworn renunciation of any and all foreign citizenship before any public officer authorized to administer an oath;
Those appointed to any public office shall subscribe and swear to an oath of allegiance to the Republic of the Philippines and its duly constituted authorities prior to their assumption of office: Provided, That they renounce their oath of allegiance to the country where they took that oath;
Those intending to practice their profession in the Philippines shall apply with the proper authority for a license or permit to engage in such practice; and
The right to vote or be elected or appointed to any public office in the Philippines cannot be exercised by, or extended to, those who: (a) are candidates for or are occupying any public office in the country of which they are naturalized citizens; and/or (b) are in active service as commissioned or non-commissioned officers in the armed forces of the country which they are naturalized citizens.