We already have four installments on this topic (refer to Part I, Part II, Part III , Part IV), as well as related posts on annulment, legal separation, declaration of nullity and divorce. We're trying to cope with the numerous questions raised, but with our schedules, it's impractical to answer the questions one by one. This is the reason why we summarize the questions so that similar ones would be answered in one go. Again, browse through the existing related articles to see if your questions are covered by existing discussions.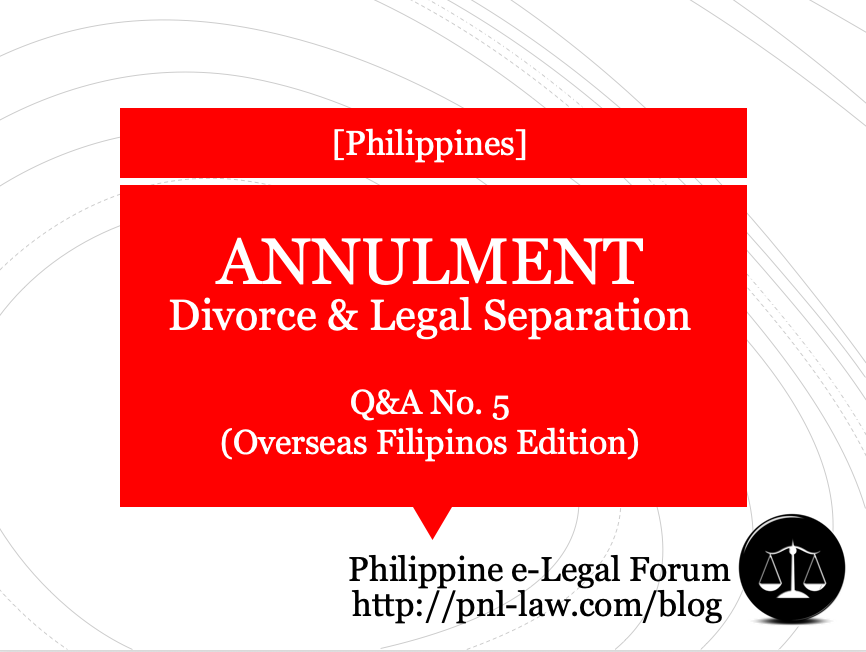 In this series, we'll centralize the questions relevant to Overseas Filipinos and OFWs. This will be a continuing discussion:
Divorce is allowed in the country where I'm located. Can I get a divorce here and would this be recognized in the Philippines?
Some countries allow the filing of divorce by Filipinos within their jurisdiction. The problem, however, is a divorce obtained by a Filipino abroad is not recognized in the Philippines (but the rule is different if the other spouse is a foreigner). It's a useless exercise as far as Philippine law is concerned.
If a divorce secured by my foreign spouse is recognized in the Philippines, what should I do?
You need to file a petition for recognition of a foreign divorce decree with the appropriate court in the Philippines. Ask your lawyer to prepare the petition for you. See Judicial Recognition of Foreign Divorce Decree. Other related questions on foreign divorce decrees are discussed in that article.
Would it make any difference if I marry abroad (where divorce is allowed) so I could get a divorce later on in that place?
No. Filipinos are covered by the prohibition against divorce, regardless of wherever they get married (and regardless where they get a decree of divorce). This is based on the "nationality principle" which basically provides that Philippine laws affecting their status follow them wherever they may be.
Would it make any difference if I later become a citizen of the other country? For instance, I was married in the Philippines and secured a divorce in the United States. Both of us are Filipinos and my spouse voluntarily signed the divorce papers. After the divorce, I married another guy, a former Filipino who had acquired U.S. citizenship. I am still a Filipino citizen. Is my previous marriage still valid in the Phils.?
Yes, the first marriage is still considered valid in the Philippines because divorce between Filipinos, wherever secured and even if with the consent of both spouses, is not recognized under Philippine laws. In other words, as far as the Philippines is concerned, the second marriage is null and void.
What if I'm naturalized in another country and subsequently secures a divorce?
Naturalization in a foreign country is one of the ways to lose Filipino citizenship. A Filipino who loses his citizenship through naturalization may secure a divorce decree abroad and have the valid divorce decree recognized in the Philippines through the proper process in court. [See also Summary on Recognition of Foreign Divorce Decree in the Philippines.]
If divorce is not allowed in the Philippines, does this mean that spouses have no remedy in getting out of a problematic marriage?
While divorce is against public policy and is prohibited by law, the Family Code provides for certain grounds to annul a marriage or declare it as null and void.
Why not allow divorce in the Philippines?
Good question. But this is properly addressed to your representatives in the House and your Senators. As members of the legislative department, they have the power to make laws and change existing laws.
Can I file the petition for annulment or declaration of nullity even if I'm abroad?
Yes. You could prepare and file the petition for annulment or declaration of nullity even if you're abroad. You could sign the document abroad and have it authenticated at the nearest Philippine embassy. You could then transmit the documents for filing here in the Philippines. Your lawyer should be able to guide you every step of the way, including the preparation and filing of the petition. [See also Filing an Annulment Case even While Abroad]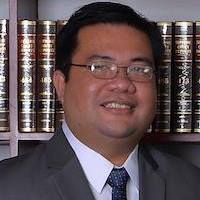 Latest posts by Atty.Fred
(see all)