My fiancee and I secured a marriage license, but no marriage ceremony was ever celebrated. I learned, however, that my "wife" is already using my surname in her documents, including her passport. Am I considered as "married"?

No. A marriage license is valid only for 120 days, and any marriage contracted after that period is null and void. A woman cannot use his putative "husband's" surname in the absence of a valid marriage. [See: Grounds for Declaration of Nullity of Marriage]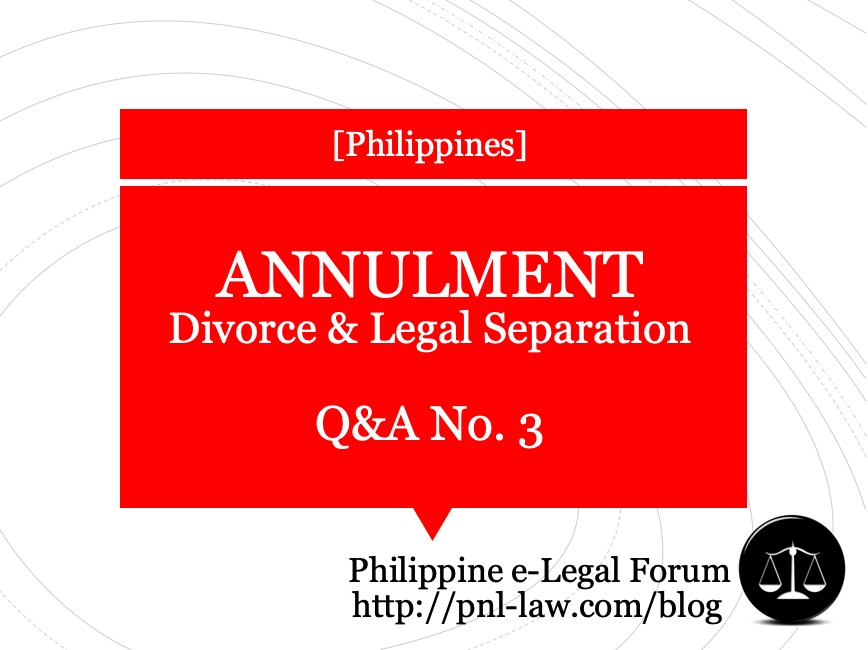 After a year of marriage, my spouse and I agreed that our marriage is getting nowhere, and that we should go find someone else. We prepared an agreement that we both want an annulment. Would this be of any help in the annulment process?

No. Agreement between the spouses is not a ground for annulment/declaration of nullity. On the contrary, as noted in a previous article, the Office of the Solicitor General (OSG) or the public prosecutor, as the case may be, is under legal obligation to make sure that there's no collusion between the parties. In fact, the grounds for annulment or the annulment itself is one of the issues EXPRESSLY removed by law from the matters that could be settled or compromised.
Could I file a petition for annulment if my wife doesn't agree?
Yes. The petition could still be filed, and the case could still continue, even if the other spouse (husband or wife) does not agree to, or even oppose, the petition. [See Procedure in Annulment of Marriage and Declaration of Nullity of Marriage]
What if I can't find my spouse?
Under the rules, summons must be served on the other spouse. This is generally done by serving the summons, together with a copy of the petition, on the other spouse. However, in case the other spouse could not be found, resort could be made to service of summons by publication.
My wife (or husband) sent me a letter saying that "wala na akong pag-ibig," "ginamit lang kita" or "let's separate." Are these sufficient grounds for annulment?

No. The law is always in favor of the validity of the marriage. A signed contract by the spouses that they agree to an annulment, as discussed above, is against the law, moral and public policy. Therefore, it is not valid.
My spouse, who is no longer a Filipino citizen, said that he/she will not object to end our marriage. Can I seek an annulment here in the Philippines or, if that's not possible, a divorce in the United States or anywhere abroad?

Article 26 is clear that only the former Filipino (or the foreigner spouse) may seek a divorce abroad. In other words, even if a spouse is no longer a Filipino, the other spouse who is still a Filipino can't validly seek a divorce. [See Mixed Marriages and Divorce: When One Spouse is a Foreigner, Divorce is Recognized even if Initiated by the Filipino Spouse]
I am a Filipino citizen, married to a foreigner. I discovered that my foreigner-spouse secured a divorce abroad and is now married to someone else. What should I do to be able to remarry? Is that unfair to the Filipino?

This definitely seems unfair to the Filipino spouse, as the foreigner spouse (or the spouse who is no longer a Filipino) could remarry after securing a divorce. The Filipino spouse, on the other hand, must get hold of the divorce decree and have it recognized in Philippine courts. Dura lex, sed lex. The law may be harsh, but it is the law. [See Process of Judicial Recognition of a Foreign Divorce Decree]
If my spouse is confined to a mental hospital for years now, can I use that as a ground for annulment?

Insanity is a ground for annulment, but it must be shown to be existent at the time of marriage (and, besides, it is subject to ratification by cohabitation). It could also be used to support the ground of psychological incapacity, but such must also be shown to be existent at the time of marriage and must appear to be incurable (among other requirements). Please note, however, that insanity is not synonymous with psychological incapacity.
How much will I spend for a petition for annulment or a petition for declaration of nullity? How long does it take?

These matters are discussed in a previous post. The amount of expenses depends on the grounds relied upon, as some grounds are relatively easier than the rest, like psychological incapacity. It also depends on the acceptance fee of the lawyer. The duration of the entire process also depends on a lot of things, e.g., the grounds relied upon, docket of the court, availability of the judge or the public prosecutor, postponements, etc. In other words, there's really no fixed cost or duration.
I believe that my marriage is null and void because my spouse had a previous marriage. What should I do to remove my marriage file at the National Statistics Office (NSO)?

Nobody could simply "remove" any official record at the NSO, as this is a criminal offense. A petition for annulment or declaration of nullity must be filed in court and once a favorable decision is issued, the decree is registered with the pertinent civil registries and the NSO.
I'm separated from my wife for years now. I recently learned that she got pregnant by another man. Can this be used as a ground for annulment? Can I have custody over our child?

Infidelity is not a ground for annulment (please see the grounds for annulment in the previous post). At most, it could be a basis for legal separation or filing a case for adultery. As to custody, the Supreme Court already ruled that sexual infidelity, by itself, is not sufficient to grant custody over a child. Please read the previous post on the primary criterion in granting custody.
——————–
If you can't find the answers here, please refer to Part I, Part II, Part IV, Part V, or other related posts. See also Summary on Recognition of Foreign Divorce Decree in the Philippines. You can check the Related Posts at the bottom of each post. You can also use the Search function (also in the right sidebar).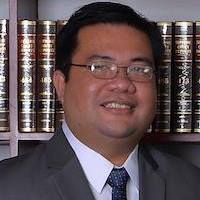 Latest posts by Atty.Fred
(see all)