The determination of what constitutes a Micro, Small and Medium Enterprise (MSME) is based on its total assets. This is provided in Republic Act No. 6977, as amended (also known as the "Magna Carta for Micro, Small and Medium Enterprises (MSMEs)", previously called the "Magna Carta for Small Enterprises".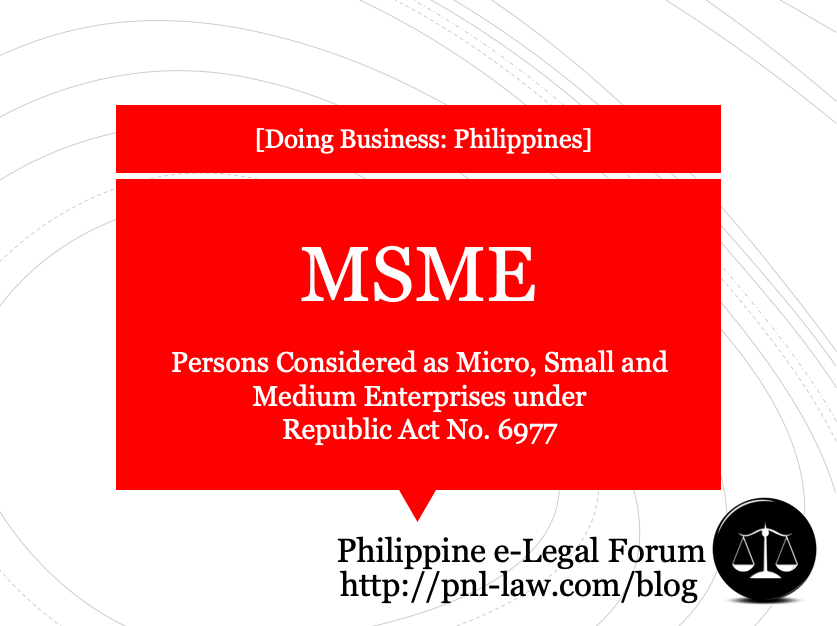 The term MSME refers to any business activity or enterprise engaged in industry, agribusiness and/or services, whether single proprietorship, cooperative, partnership or corporation whose total assets must have value falling under the following categories:
MICRO : not more than P3,000,000
SMALL : P3,000,001 – P15,000,000
MEDIUM : P15,000,001 – P100,000,000
Total assets include those arising from loans, but exclusive of the land on which the particular business entity's office, plant and equipment are situated.
These definitions are subject to the review and adjustment by the Micro, Small and Medium Enterprises Development (MSMED) Council, taking into account inflation and other economic indicators. The Council may use other variables such as number of employees, equity capital and assets size.
The Council shall ensure that notwithstanding the plans and programs set for MSMEs as a whole, there shall be set and implemented other plans and programs varied and distinct from each other, according to the specific needs of each sector, encouraging MSMEs to graduate from one category to the next or even higher category.
ELIGIBILITY FOR GOVERNMENT ASSISTANCE
To qualify for assistance, counseling, incentives and promotion under the Magna Carta for Micro, Small and Medium Enterprises (MSMEs), businesses falling under the definition of MSMEs must be:
a) duly registered with the appropriate agencies as presently provided by law. In the case of

micro enterprises

, registration with the office of the municipal or city treasurer shall be deemed sufficient compliance with this requirement;
b) one hundred percent (100%) owned, capitalized by Filipino citizens, whether single proprietorship or partnership. If the enterprise is a juridical entity, at least sixty percent (60%) of its capital or outstanding stocks must be owned by Filipino citizens;
c) a business activity within the major sectors of the economy, namely: industry, trade, services, including the practice of one's profession, the operation of tourism-related establishments, and agri-business, which for purposes of R.A. 6799 refers to any business activity involving the manufacturing, processing, and/or production of agricultural produce; and
d) it must not be a branch, subsidiary or division of a large scale enterprise.
However, this requirement shall not preclude MSMEs from accepting subcontracts and entering into franchise partnership with large enterprises or from joining in cooperative activities with other MSMEs.
Programs of the Small Business Corporation (SB Corporation) as provided in subsequent provisions of the Magna Carta for Micro, Small and Medium Enterprises (MSMEs) shall be exclusively delivered and directed to bonafide MSMEs.
Any MSME, its directors, officers or agents, found to have committed fraud or misrepresentation for the purpose of availing the benefits under the Magna Carta for Micro, Small and Medium Enterprises (MSMEs) shall be immediately disqualified as a beneficiary, without prejudice to any administrative, criminal or civil liability under existing laws.
Eligible MSMEs shall be entitled to a share of at least ten percent (10%) of total procurement value of goods and services supplied to the Government, its bureaus, offices and agencies annually.
The Department of Budget and Management (DBM) shall monitor the compliance of government agencies on the required procurement for MSMEs and submit its report to the MSMED Council on a semestral basis and to the Congress of the Philippines, through its appropriate committees on a yearly basis.