On 7 January 2020, House Bill No. 78 was filed at the lower house of Congress, proposing amendments to the Public Service Act (Commonwealth Act No. 46), which shall be known as the New Public Service Act. The proposed law seeks to limit the term "public utility" to electricity distribution and transmission sector and the water pipeline and sewerage pipeline system. The New Public Service Act, which also prescribes a mechanism for rate fixing that allows a reasonable rate of return to attract investments into public utilities, was approved on third and final reading on 20 February 2020 and was transmitted to the Senate on 11 March 2020.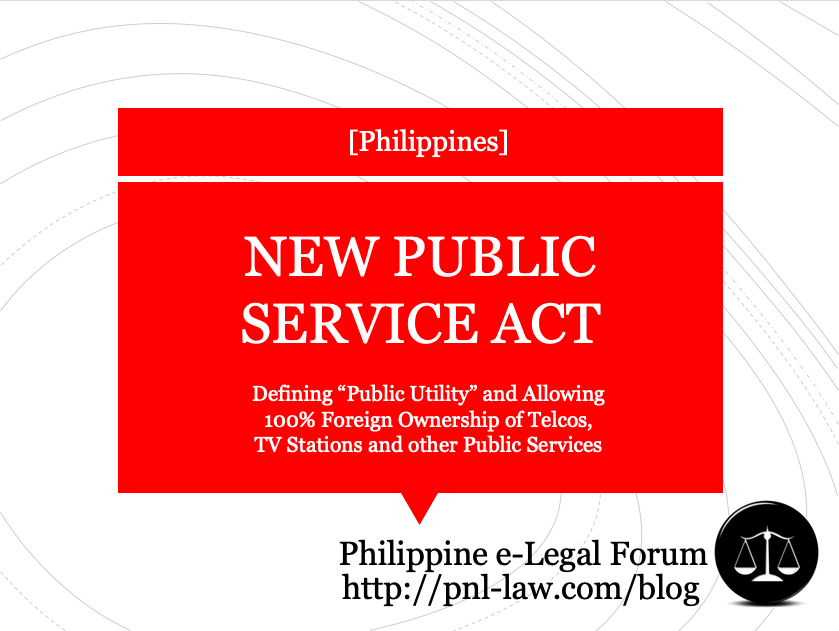 PURPOSE OF HOUSE BILL NO. 78
In the explanatory note of the proposed law, the principal sponsor, Joey S. Salceda, explained that the Public Service Act (Commonwealth Act No. 46) was crafted in 1936 to govern public services in the Philippines. It no longer sufficiently addresses the changes in the economic framework brought about by globalization and rapid technological innovation. There is, therefore, a need to adjust the provisions of the Public Service Act to bring it to the 21st century and enable it to fulfil its purpose of truly serving the public.
Competition and foreign investment are inhibited because limitations that should only apply to the operation of public utilities are also applied to all public services. The key to fixing the problem is to develop a clear statutory definition of a public utility by amending the Public Service Act. More competition among providers would result in lower prices and improved quality of basic services in the Philippines, creating a more competitive economy towards a better quality of life for all.
IMPACT OF AMENDMENTS
The amendment of the Public Service Law has created a big issue. What is the controversy all about? The amendments allow 100% foreign ownership of certain industries traditionally reserved to Filipinos. The Philippine Constitution provides that foreign ownership of public utilities must be limited to 40%. Section 11 of Article XII of the Constitution provides that:
Section 11. No franchise, certificate, or any other form of authorization for the operation of a public utility shall be granted except to citizens of the Philippines or to corporations or associations organized under the laws of the Philippines, at least sixty per centum of whose capital is owned by such citizens; nor shall such franchise, certificate, or authorization be exclusive in character or for a longer period than fifty years. Neither shall any such franchise or right be granted except under the condition that it shall be subject to amendment, alteration, or repeal by the Congress when the common good so requires. The State shall encourage equity participation in public utilities by the general public. The participation of foreign investors in the governing body of any public utility enterprise shall be limited to their proportionate share in its capital, and all the executive and managing officers of such corporation or association must be citizens of the Philippines.[Emphasis supplied]
There is, however, no definition of a "public utility," whether under the Constitution or any law. Based on the existing regulatory framework, public services are considered public utilities. With the definition provided under the New Public Service Law, the constitutional limitation on foreign ownership no longer applies to public services. The constitutional foreign ownership limitation applies only to public utilities.
PUBLIC SERVICE
As noted above, 100% ownership of foreign investors is allowed for public services. Under the proposed New Public Service Act, the term "public service" includes every person that now or hereafter may own, operate, manage, or control in the Philippines, for hire or compensation, with general or limited clientele, whether permanent, occasional or accidental, and done for the general use business purposes, services which are non-rivalrous or imbued with public interest, such as:
any common carrier, railroad, street railway, traction railway, sub-way motor vehicle, either for freight or passenger, or both with or without fixed route and whether may be its classification, freight or carrier service of any class
express service, steamboat or steamship line, pontines, ferries, and water craft, engaged in the transportation of passengers or freight or both
shipyard
marine railways
marine repair shop
wharf or dock
canal
public market
irrigation system
gas
electric light
heat and power
water supply and power
petroleum
sewerage system
telecommunications system
wire or wireless communications system
wire or wireless broadcasting stations
other similar public services
However, a person engaged in agriculture, not otherwise a public service, who owns a motor vehicle and uses it personally and/or enters into a special contract whereby said motor vehicle is offered for hire or compensation to a third party or third parties engaged in agriculture, not itself or themselves a public service, for operation by the latter for a limited time and for a specific purpose directly connected with the cultivation of his or their farm, the transportation, processing, and marketing of agricultural products of such third party or third parties shall not be considered as operating a public service.
The word "person" includes every individual, co-partnership, joint-stock company or corporation, whether domestic or foreign, their lessees, trustees, or receivers, as well as any municipality, province, city, government-owned or controlled corporation, or agency of the Government of the Philippines, and whatever other persons or entities that may own or possess or operate public services.
In the interest of national security, the restriction on foreign ownership imposed on public utilitiesunder the 1987 Constitution shall continue to apply to a person that manages, operates, and controls public services involving air transportation, Philippine ports, and airports.
EXEMPT ENTITIES: NOT CONSIDERED PUBLIC SERVICE
The following are exempted from the provisions on public service (including the requirement of a franchise):
(b) Vehicles drawn by animals and bancas moved by oar, sail, and tugboats and lighters;
(c) Airships within the Philippines, except as regards the fixing of their maximum rates on freight and passengers;
(d) Radio companies, except with respect to the fixing of rates; and
(e) Public services owned or operated by any instrumentality of the National Government or bay any government-owned or controlled corporation, except with respect to the fixing of rates.
PUBLIC UTILITY: DEFINED; ENUMERATION
Under the proposed New Public Service Act, a public service that meets all of the following criterial is deemed a public utility:
(i) The person or entity regularly supplies, transmits and distributes to the public through a network a commodity or service of public consequence;
(ii) The public service is a natural monopoly that needs to be regulated. For this purpose, natural monopoly exists when the market demand for a commodity or service can be supplied by a single entity at a lower cost than by two or more entities;
(iii) The commodity or service is necessary for the maintenance of life and occupation of the public; and
(iv) The person or entity is obligated to provide adequate service to the public on demand.
An entity that operates, manages or controls for public use, any of the following systems is a public utility:
(i) Distribution of electricity;
(ii) Transmission of electricity;
(iii) Water pipeline distribution; and
A concessionaire granted a concession by a government agency engaged in public utility operations shall be deemed a public utility.
The National Economic and Development Authority (NEDA), in consultation with the Philippine Competition Commission (PCC), shall recommend to Congress the classification of a public service as a public utility, provided that such public service is able to meet all the criteria enumerated above. No other person shall be deemed a public utility unless otherwise subsequently provided by law.
FRANCHISE REQUIRED FOR PUBLIC SERVICE
No public service shall operate in the Philippines without possessing a valid and subsisting franchise, certificate, concession, or any other appropriate form of authorization for the operation of a public service, from Congress, and/or the proper administrative agency, as the case may be, to the effect that the operation of said service and the authorization to do business will promote the public interests in a proper and suitable manner.
CONDITIONS OF FRANCHISE OR CERTIFICATE
The Administrative Agency shall prescribe as a condition for the issuance of the franchise, certificate, concession, or any other appropriate form of authorization for the operation of a public service, that the service can be acquired by the Republic of the Philippines or by any instrumentality thereof upon payment of the cost price of its capital stock, useful equipment, infrastructure, or property, less reasonable depreciation; and likewise, that the violation of any of these conditions shall produce the immediate cancellation of the franchise, certificate, concession, or any other appropriate form of authorization for the operation of a public service without the necessity of any express action on the part of the administrative agency.
RECIPROCITY REQUIREMENT ON OWNERSHIP BY FOREIGN NATIONALS
No foreign national shall be allowed to own capital stock of any public service classified as a public utility prior to this Act, unless the country of such foreign national accords reciprocal rights to Philippine nationals as may be provided by foreign law, treaty or international agreement. Reciprocity may be satisfied by according rights of similar value in other economic sectors.
EMPLOYMENT OF FOREIGN NATIONALS
Unless otherwise provided by law or by any international agreement, a public service shall employ a foreign national only after the determination of non-availability of a Philippine national who is competent, able and willing to perform the services for which the foreign national is desired. In no case shall the employed foreign nationals comprise more than 25% of the total employees of the public service.
Any foreign national seeking admission to the Philippines for employment purposes and any public service which desires to engage a foreign national for employment in the Philippines must obtain an employment permit pursuant to Presidential Decree No. 442, otherwise known as the Labor Code of the Philippines, as amended.
MERGERS AND ACQUISITIONS
In the interest of national security, the President may suspend or prohibit any proposed merger or acquisition transaction, or any investment in a public service that effectively results in the grant of control, whether direct or indirect, to a foreigner or a foreign corporation. The NEDA shall promulgate rules and regulations to implement this rule.
The Philippine Competition Commission shall be consulted on all matters relating to mergers and acquisitions.
ADMINISTRATIVE AGENCIES; JURISDICTION
The Administrative Agency shall have jurisdiction, supervision, and control over all public services and their franchises, equipment, and other properties, and in the exercise of its authority, it shall have the necessary powers and the aid of the public force.
Public services owned or operated by government entities or government-owned or controlled corporations shall be regulated by the Administrative Agency in the same way as privately-owned public services. The requirement of a franchise, certificate, concession, or any other appropriate form of authorization for the operation of a public service shall apply in case the charter or enabling law of a public service owned or operated by a government entity or GOCC does not explicitly require the same.
The Administrative Agencies to which the powers of the former Public Service Commission were transferred include:
Civil Aeronautics Board (CAB);
Civil Aviation Authority of the Philippines (CAAP);
Department of Energy (DOE);
Department of Energy and Natural Resources (DENR);
Department of Information and Communications Technology (DICT);
Department of Transportation (DOTr);
Energy Regulatory Commission (ERC);
Land Transportation Franchising and Regulatory Board (LTFRB);
Land Transportation Office (LTO);
Local Water Utilities Administration (LWUA);
Maritime Industry Authority (MARINA);
Metropolitan Waterworks and Sewerage System (MWSS);
National Telecommunications Commission (NTC);
National Water Resources Board (NWRB);
Philippine Ports Authority (PPA); and
Toll Regulatory Board (TRB)
OTHER UNLAWFUL ACTS
In addition to the unlawful acts provided under the Public Service Act, the New Public Service Act adds a new illegal act, punishable by imprisonment – To refuse or neglect, when requested by the Administrative Agency to Urgently use, deliver or render the public service for the purpose of avoiding further loss on human, material, economic, or environment during a state of calamity.