[The full text of Memorandum dated 29 May 2020 issued by Quezon City Mayor Ma. Josefina G. Belmonte is reproduced below.]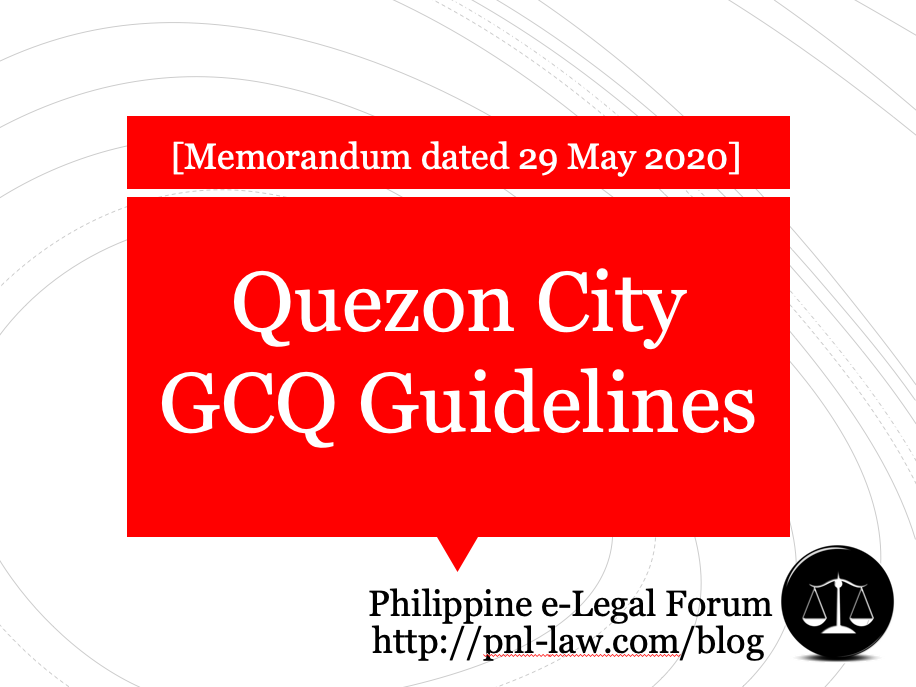 ---
QUEZON CITY
OFFICE OF THE MAYOR
MEMORANDUM
FOR :
All Quezon City Barangays
All Departments, Offices, and Task Forces of the Quezon City Government
Quezon City Police District
All Concerned Sectors
The General Public
FROM :
MA. JOSEFINA G. BELMONTE, City Mayor
SUBJECT :
Guidelines for General Community Quarantine (GCQ)
DATE :
May 29, 2020
---
BACKGROUND
On March 11, 2020, the World Health Organization declared COVID-19 to be a pandemic. On March 13, 2020, due to the pandemic, the City Council declared Quezon City to be under a state of calamity. On March 16, 2020, the President declared an Enhanced Community Quarantine (ECQ) over the entire Luzon Island.
On May 12, 2020, the President placed the National Capital Region (NCR) on modified ECQ (MECQ) from May 16, 2020 to May 31, 2020 as stated under Inter-Agency Task Force (IATF) Resolution No. 36.
On May 28, 2020, the IATF recommended to the President to place NCR under General Community Quarantine (GCQ) starting on June 1, 2020.
These Guidelines shall apply during the period of GCQ over NCR.
GUIDELINES

1. General Community Quarantine (GCQ). The following guidelines shall be observed:
a. Limited Gatherings. Mass gatherings for leisure or non-essential purposes such as but not limited to movie screenings, concerts, sporting events, and other entertainment activities, community assemblies, and non-essential work gatherings, shall be prohibited. The following gatherings shall be allowed, subject to compliance with minimum health standards under these Guidelines:
(i) gatherings involving critical government services; (ii) humanitarian activities; and (iii) religious gatherings of not more than ten (10) persons.
b. Delayed Physical Classes. Physical classes in all schools shall remain suspended until the time determined under future guidelines from the Department of Education and Commission on Higher Education.2 Schools may provide virtual learning classes whereby students can attend remotely from their homes.
c. Limited Public Transportation. Public transportation shall be re-opened in phases, subject to any future guidelines from the Department of Transportation (DOTr).3 Based on IATF and DOTr announcements to date, trains, DOTr- designated buses augmenting the train service,4 taxis, transport network vehicle services, shuttle services, point-to-point buses, and bicycles may begin operating on June 1, with other public transport allowed later in the month depending on upcoming DOTr guidelines.
The City Government may expand its current "Libreng Sakay" bus services to accommodate residents traveling to and from permitted establishments. Barangays are called upon to provide free bicycle parking spaces, to which the said "Libreng Sakay" bus services will be extended. Residents are encouraged to adopt bicycle-riding as a mode of last-mile transport.
Tricycles may operate provided that each tricycle shall observe the following, subject to any additional guidelines from the Tricycle Franchising Board (TFB) or Tricycle Regulatory Division (TRD):
i. Have only one (1) passenger, except in an emergency or when a passenger is a PWD or needs assistance due to illness;
ii. Strictly implement no back-ride policy;
iii. Provide a transparent barrier between the motorcycle and the sidecar;
iv. Observe other precautionary measures such as sanitizing, wearing of face masks, gloves, etc.; and
v. Regularly disinfect and sanitize each unit. The City may consider adjusting the current fare matrix and issuing additional guidelines.
Prior to operating, all drivers covered in this subsection are required to undergo health screening at any health center to determine whether they should be tested for COVID-19 and to ensure that they are fit to work.
d. General Quarantine. The movement of all residents shall be limited to accessing essential goods and services, travel in relation to work in any permitted establishment, and limited outdoor activities mentioned below.
As per the DILG, quarantine passes shall no longer be required to enter any commercial establishment. However, establishments must regulate the number of customers to ensure that they can maintain adequate distancing and comply with the other minimum health standards mentioned in Sec. 4 below.
Notwithstanding the foregoing, the City may impose strict home quarantine in Extreme Enhanced Community Quarantine/Special Concern Lockdown areas in accordance with the Memorandum of the Mayor dated May 12, 2020, subject to relevant IATF guidelines and coordination with the IATF-NCR.
e. Limited Outdoor Activities. Non-contact outdoor sports and exercise shall be allowed, including non-contact sports such as walking, jogging, running, biking, golf, swimming, tennis, badminton, equestrian, and skateboarding.6 In any case, participants must continue to wear face masks (except when swimming) and continue to observe physical distancing.
f. Strict Quarantine of High-Risk Persons. Any person (i) below twenty-one (21) years old; (ii) sixty (60) years old and above; (iii) with immunodeficiency, comorbidities, or other health risks; or (iv) pregnant women (collectively, "High- Risk Persons") shall be required to remain in their residences at all times. As exceptions, such persons may leave home as follows: (i) when necessary under the circumstances for obtaining essential goods and services; (ii) when their physical presence at work is indispensable in permitted establishments; or (iii) to participate in the limited outdoor activities mentioned above (e.g., golf, jogging, biking, etc.). Communities are encouraged to designate low-traffic window hours for senior citizens to engage in exercise.
g. QC Laban COVID-19 Team and Special Concern Lockdown Areas. The QC Laban COVID-19 Team and the Special Concern Lockdown Areas provided in the Memorandum of the Mayor dated May 12, 2020 will continue under GCQ, and the health measures under the said initiatives shall continue to prevail, subject to the conditions imposed by relevant IATF issuances.
h. Infectious Waste Disposal. Business establishments and their waste disposal service providers should determine their own waste segregation and separation process for infectious waste, including the disposal of used face masks and other protective clothing. A waste bin or bag should be designated for this, and whenever possible the use of transparent yellow bags, or properly labeled bags. The City Government shall undertake a corresponding system for collection and disposal of such infectious waste. The foregoing may be subject to the additional guidelines to be issued by the Environment Protection and Waste Management Department (EPWMD) and Task Force Solid Waste Management (TF SWM).
i. Single Use Plastics Allowed; Disinfection of Reusable Plastics. Single- use plastic bags shall be allowed for the time being and the deferment of the implementation of the single-use plastics/disposable materials ban for dine-in under City Ordinance No. SP-2876, S-2019 shall continue to be in effect. Reusable plastic bags should be thoroughly disinfected or washed before re-use. Re-use of plastic bags after cleaning as garbage liners to lessen waste is strongly encouraged.
j. Inter-LGU Movement. The following rules shall apply to all persons entering or exiting Quezon City from other LGUs:
i. Work. If entering/exiting for work purposes, present proof of work at any checkpoint such as company ID, business permit, barangay business clearance, or certificate of employment.
ii. Non-Leisure and Non-Work Purpose. Based on public announcements to date from the Philippine National Police (PNP), a person that wishes to enter or exit Quezon City for a non-leisure purpose that is not related to work (e.g., locally stranded individual trying to return home) should obtain a health clearance and apply for a PNP travel authority at the nearest police station in the place of origin.
iii. Leisure. Entering or exiting Quezon City for leisure purposes is prohibited.
iv. Lockdowns. Any Quezon City neighborhoods under Extreme Enhanced Community Quarantine or Special Concern Lockdown shall continue to be subject to strict home quarantine and other restrictions under the Memorandum of the Mayor dated May 12, 2020.
2. Permitted Establishments and Businesses.
a. Full Operations. The following businesses may engage in full operations subject to compliance with physical distancing, hand washing, use of face masks and other applicable health measures:
i. Food, water, and non-alcoholic beverage manufacture, distribution or preparation (no dine-in; take-out and delivery only); hawkers or ambulant vendors should sell in designated vending sites; alcoholic beverage manufacture shall be allowed on limited operations (50% onsite).
ii. Medical and hygiene product manufacture or distribution, including medicines, masks, vitamins, soap, detergent and disinfectant;
iii. Hospitals and clinics (providing non-aesthetic services such as dermatological, dental, optometric, and EENT), including veterinary clinics; it is highly encouraged that all workforce who will physically report to work be provided with on-site or near-site accommodation.
iv. Essential retailers such as supermarkets, grocery stores, markets, water refilling stations, drugstores;
v. Agricultural and veterinary products including pet food, feed and fertilizers;
vi. Laundry shops including self-service laundry;
vii. Logistics and delivery services including cargo handling, warehousing, trucking, shipping, postal and courier;
viii. Utilities including power, energy, water, telecommunications, refineries and depots, gasoline stations, LPG suppliers, internet service providers, cable providers, and 3rd party contractors of the foregoing;
ix. Maintenance and security services, including building repair, aircon, garbage, sewerage, pest control, plumbing, electrical, property management and building utility services; private security services;
x. Repair and installation of machinery and equipment, including repair of computers and personal and household goods;
xi. Construction of any kind, provided that contractors comply with the applicable safety guidelines under DPWH Department Order No. 35 s. 2020;
xii. Construction materials manufacturing and supply, including cement, steel and hardware stores;
xiv. E-commerce companies, business process outsourcing (BPOs) and export-oriented business with work-from-home, on-site or near site accommodation, or point-to-point shuttling arrangements;
xv. Banks, money transfer services, microfinance institutions, credit cooperatives, and their armored vehicle services and other related services;
xvi. Housing service activities;
xvii. Rental and leasing of vehicles or equipment for permitted businesses; and
xviii. Employment services, including recruitment and placement, for permitted businesses.
b. Limited Operations. The following businesses may operate with not more than 50% of the workforce on-site only unless otherwise mentioned, with the rest of the workforce on work-from-home or remote working arrangements;
i. General manufacturing and production;
ii. General retail trade such as clothing and accessories (strictly no trying-on/fitting of clothes or accessories; returns/exchanges allowed only for defective goods, not for change of mind), hardware stores, bookstores, school and office supply; baby care supply; IT and electronics; flower, jewelry, novelty, antique, perfume shops; toy store (with playgrounds and amusement area closed), etc.;
iii. Firearms and ammunition trading establishments;
iv. Real estate activities of any kind;
v. Wholesale and retail trade or repair of motor vehicles, motorcycles, and bicycles, including their parts and components; vulcanizing shops, battery repair shops, and auto repair shops;
vi. Office administrative and support services;
vii. Funeral services and crematoriums; provided that wakes be highly discouraged, and if conducted, shall be limited to immediate family;
viii. Hotels, motels and similar establishments, but only for (a) special purpose accommodation for healthcare workers, OFWs, workers in permitted sectors, and non-OFWs with mandated quarantine, or (b) guests who have existing long-term bookings;
ix. Financial services (other than those listed under full operations) including money exchange, insurance, reinsurance and non- compulsory pension funding;
x. Professional, consulting and technical services including legal, accounting, architecture, engineering, technical testing and analysis, scientific research and development; advertising and market research; IT services such as computer programming and data processing, photography, fashion, design; film, music and TV production;
xi. Malls and shopping centers, only for non-leisure establishments within such malls/shopping centers, including any businesses previously mentioned, such as dining (only for take-out and delivery), clothing and accessories (strictly no trying-on/fitting of clothes or accessories; returns/exchanges allowed only for defective goods, not for change of mind), mall-based government services, hardware stores, bookstores, school and office supply; baby care supply; IT and electronics; flower, jewelry, novelty, antique, perfume shops; toy store (with playgrounds and amusement area closed);
High-Risk Persons (children, elderly, pregnant women) may not enter malls and shopping centers except when indispensable under the circumstances for obtaining essential goods and services, or for work in establishments located therein only if absolutely necessary.
Malls/shopping centers should not provide any public wi-fi services to discourage loitering.
xii. Sports clubs, outdoor sports facilities and parks may provide basic operations for purposes of the limited outdoor activities mentioned above (e.g., non-contact outdoor sports and exercise such as jogging, biking, golf, tennis, badminton, etc.)
xiii. Barbershops and salons may open starting on June 7, 2020 up to 30% capacity, and only for hairstyling, hair care and nail services, subject to upcoming DTI guidelines that may modify restrictions further.
c. No Operations Allowed. The following establishments shall remain closed:
i. Leisure, entertainment, sports (other than sports clubs and outdoor sports facilities allowed above) and personal care establishments;
ii. Gyms, fitness studios, and other indoor sports facilities;
iii. Kids playhouses, day care centers;
iv. Cinemas, theaters, karaoke bars, amusement parks or rides;
v. Libraries, archives, museums and cultural centers;
vi. Travel agencies, tour operators, reservation service and related activities;
vii. Massage parlors, sauna, facial care, waxing; and other similar activities;
viii. Memorial parks and cemeteries (except for burial rites).
d. City Government. City Government services shall be at full operational capacity, subject to alternative work arrangements as determined by each department/office head, CSC Memorandum Circular No. 10 s. 2020 and any additional guidelines to be issued by the Human Resource and Management Department (HRMD).
3. Minimum Health Standards. All establishments in Quezon City shall observe the following arrangements:
a. Health and Safety Officer. All establishments must assign a Health and Safety Officer accountable for ensuring that these guidelines are strictly implemented in addition to compliance with the usual occupational health and safety standards and regulations.
b. Physical Distancing. All workplaces shall, to the extent feasible, adopt arrangements to enable both workers and customers to maintain at least a one- meter distance from one another in the course of their public interactions, including but not limited to the following: (i) places where persons may naturally congregate, such as queues, elevators, escalators, walkways, restrooms and other transit points, should have floor markers, barriers or other means of encouraging people to socially distance; (ii) dividers placed between workstations to prevent physical contact; (iii) signs posted in prominent places reminding people to observe physical distancing and other basic safety precautions; (iv) marshals deployed to manage personal movement accordingly; (v) furniture rearranged to minimize face-to-face interaction (e.g. workstations with back-to-back seating arrangements).
Retail establishments should impose crowd control measures to ensure that their customers maintain physical distancing inside their premises. Businesses should provide proper waiting or queueing areas where floor markings, sitting arrangements and other forms of physical distancing measures can be applied.
c. Thermal Scanning and Hand Sanitizing. All establishments should regulate all ingress and egress points, preferably including hand sanitizing or washing stations at each point. Establishments shall subject all individuals entering to thermal scanning, to the extent feasible. Individuals with temperatures exceeding 37.5° C shall not be allowed to enter the establishment and be subjected to isolation. In-house medical staff, if any, shall perform initial investigation and coordinate with the nearest Barangay Health Center or other healthcare facility.
d. Face Masks or Face Coverings. All persons in public places and workplaces shall wear face masks, earloop masks, indigenous, reusable, do-it- yourself masks, or face shields, handkerchiefs, bandanas, towels, cloth masks or any other kind of covering for the nose and mouth, to mitigate the transmission of COVID-19.
e. Hand Washing. All employees shall be encouraged to engage in frequent handwashing or disinfection of hands. Management shall ensure that employees have sufficient provisions of soap, alcohol and other appropriate hygiene products.
f. Disinfection of High-Touch Objects/High-Traffic Areas. Regular disinfection must be conducted for all high-touch objects and high-traffic areas including but not limited to door handles, elevator buttons, fingerprint scanners, railings, keypads, counters, tables and chairs, washrooms and toilets. To the extent feasible, establishments should conduct thorough disinfectant spraying and misting of all facilities.
g. Disinfection Day. All establishments should designate one day per week for thorough disinfection.
h. Designated Lanes. All business establishments, to the extent feasible, must have dedicated lanes and ensure physical distancing at all times for (i) senior citizens, PWDs, pregnant women, and healthcare workers; and (ii) delivery services.
i. Extended Hours. Supermarkets, public and private wet markets, grocery stores, agri-fishery supply stores, veterinary supply stores, pharmacies, drug stores, and other retail establishments are encouraged to extend their store operations to a maximum of twelve (12) hours to mitigate overcrowding of customers in a particular time frame. The practice of rotating schedules for shoppers vis-à-vis their place of residence is encouraged, in coordination with the concerned Barangay/s or the City Government.
j. Health Checks. The management of each establishment shall, to the extent feasible, undertake regular health checks for employees. Persons exhibiting elevated temperature, or who are otherwise exhibiting COVID-19 symptoms such as a fever, dry cough, difficulty breathing or body aches, shall not be allowed to remain in close contact with other persons and shall be referred to immediate medical attention. No worker shall be required to report for or remain at work if he or she exhibits COVID-19 symptoms.
k. Testing Program. Within the first week of operations, an establishment with 10 or more employees shall be required to submit by email to the City Health Department its program for COVID-19 health screening, in accordance with DOH Administrative Order No. 2020-0180 and the joint DTI-DOLE Interim Guidelines signed on April 30, 2020, at cost to the establishment. It is not necessary to test every employee before they may return to work, provided that at the minimum, persons exhibiting COVID-19 symptoms should be tested.
On the other hand, establishments with less than 10 employees are encouraged to have their employees subjected to health screening at any health center. If an employee exhibits COVID-19 symptoms and fits other DOH testing criteria, they may be tested at any of the City's community-based testing centers in coordination with the City Health Department. In any case, employees testing positive or showing COVID-19 symptoms must be promptly isolated and treated.
l. Capacity Restrictions. Within the first week of operations, all establishments must report by email to the Business Permits and Licensing Department (BPLD) and the Department of the Building Official (DBO) the actual number of their employees and the dimensions of their premises, for purposes of computing accurately any applicable capacity and workforce limitations. Establishments that physically receive customers should post signs indicating their maximum customer capacity as may be prescribed by the BPLD and/or DBO.
m. Mandatory Reporting of COVID-19 Cases. In case any establishment becomes aware of any suspect, probable or confirmed COVID-19 case among their staff, the establishment should immediately report the same by telephone or email to the City Health Department, using the contact details in the attached Annex.
n. PPEs. The private medical staff, if any, of each establishment should have the appropriate personal protective equipment or gear in accordance with DOH Administrative Order No. 2020-0180 and other applicable guidelines. The proper collection and disposal of such equipment should always be observed.
o. Plan for the New Normal. To the extent feasible, establishments shall adopt work arrangements that lessen face to face contact and physical interaction, including work from home, telecommuting, virtual meetings, and compressed workweek. In so far as practicable, High-Risk Persons should be allowed to work from home, and required to physically report for work only when their presence is indispensable. The City Government may require submission of these arrangements as part of a New Normal Plan that may be required from each establishment.
p. No Contact Facilities. Establishments shall, to the extent feasible, provide no contact facilities for their customers or clients, such as using online interfaces, electronic menus, pre-arranged services, digital or cashless payment schemes and the like.
q. Enforcement Monitoring. All of the above measures shall be strictly monitored and enforced by the City Government, either through submissions as stated or during actual visits and inspections conducted by the city's regulatory and law enforcement departments. Any violation thereof will be dealt with accordingly, consistent with existing laws and issuances.
r. Information Dissemination. Establishments shall post within their premises information on minimum health standards mandated by DOH Administrative Order No. 2020-0015 and the City Health Department, for strict compliance of all workers, customers, and other individuals entering the establishment.
4. Quarantine Facilities for Individual Cases. To support disease prevention and control, the City may isolate and quarantine individual suspect, probable and confirmed COVID-19 cases in accordance with the recommendations of the City Health Department. The City may acquire additional quarantine facilities, aside from the existing facilities designated as Hope-1, Hope-2 and Hope-3, in so far as necessary.
5. Reporting of Probable and Suspected Individuals, Contact Tracing and Community Testing. The City Epidemiology and Disease Surveillance Unit (CESU) of the City Health Department shall encourage the proactive reporting of probable and suspected individuals, further intensify contact tracing efforts and community testing initiatives, and continue submitting regular reports to the City Health Department and Department of Health for appropriate action.
The City may engage civil society organizations, labor associations and other organized groups to assist in reporting probable and suspected cases among their members, and will considerably expand its network of contact tracers consistent with the directives of the national government.
The City shall continue to conduct community-based testing for COVID-19 as the City Health Department may recommend. Existing testing arrangements may be expanded in so far as necessary.
6. Responsibility of the Barangays. Under the principle of local autonomy, and pursuant to their duty and power to protect general welfare, each barangay may implement localized measures to protect the health and safety of their residents, including but not limited to;
a. Issuing passes per family to limit movement in restricted access zones ("warm zones") under Extreme Enhanced Community Quarantine;
b. Enforce wearing of face masks, physical distancing, and other public health and safety measures;
c. Ensure that markets and other establishments allowed to operate inside their barangays should have physical distancing floor markers and other measures to minimize close contact;
d. Regulate sale of alcoholic beverages and liquor, and prohibit drinking in public spaces;
e. Conduct enhanced foot patrols and information and education campaigns;
f. Strictly enforce public safety hours, which shall remain in effect (i.e., all residents must be home between the hours of 8pm and 5am, except for travel in relation to work or emergencies, or for purposes of air/sea travel as shown by tickets);
g. Monitor business establishments for compliance of minimum health standards and protocols and report to the Business Permits and Licensing Department any establishments that violate the guidelines-to-operate issued by the City and the national government.
Barangay Health Emergency Response Teams (BHERTs) are reminded to continue performing their responsibilities, especially in enforcement of home quarantine in areas under Extreme Enhanced Community Quarantine/ Special Concern Lockdown.
Notwithstanding the foregoing, each Barangay must obtain the approval of the City, pursuant to the recommendation of the City Health Department, before imposing any special health or safety measures, including but not limited to closing any roads. All Barangays are hereby directed to open any currently closed roads, except for road closures authorized by the City in Extreme Enhanced Community Quarantine or Special Concern Lockdown areas. The City may review and modify any barangay health or safety measures to make the same consistent with applicable City or national guidelines, and to ensure unhampered essential movement.
7. Enforcement and Violation. The City may deploy surveillance and enforcement teams to verify compliance with these Guidelines, especially the minimum health standards under Sec. 4 above. Persons that violate these guidelines may be charged under (i) Sec. 9 of Republic Act No. 11332, which penalizes non-cooperation of persons or entities affected by a health event of public concern; and/or (ii) Article 151 of the Revised Penal Code (Resistance and Disobedience to a Person In Authority). Also, the City may revoke the business permit of any offending establishments, as authorized under Republic Act No. 11332.
8. Duration. These Guidelines supersede the MECQ Guidelines dated May 15, 2020 and shall remain effective until the City Mayor, on recommendation of the City Health Department, determines that the emergency public health measures contained herein may be lifted. Also, these Guidelines are subject to any applicable national government issuance or regulation.
9. Updates and Modifications. The City acknowledges that the IATF and other national government agencies and offices are in the process of finalizing additional guidelines for the phased lifting of restrictions. These Guidelines shall be deemed subject to any relevant national issuances and may be updated from time to time in accordance with such issuances.
10. Sectoral and Other Specific Guidelines. Subsequent guidelines and information will be released for sectoral and other specific concerns, as needed.
11. Inquiries and Coordination. Submissions, queries, or any form of coordination with the City Government may be done through the list of contact details attached to this memorandum.
MA. JOSEFINA JOY G. BELMONTE, City Mayor
---
QUEZON CITY GOVERNMENT CONTACT INFORMATION
QC Customer Service/Emergency Phone Inquiries: GCQSupport@quezoncity.gov.ph Dial Hotline 122
8988-4242 loc. 8416 / 8407
City Health Department: HealthDept@quezoncity.gov.ph 8703-2723 / 8703-8794
Disaster and Risk Reduction Management Office: QCDRRMO@quezoncity.gov.ph
Department of Public Order and Safety: DPOS@quezoncity.gov.ph 924-1851
Business Permits and Licensing Department: BPLD@quezoncity.gov.ph 8988-4242 loc. 8282 / 8174
Office of the City Administrator: ocadmin@quezoncity.gov.ph 8988-4242 loc. 1101
Small Business Cooperatives Development and Promotions Office: 8988-4242 loc. 8731 / 8734 / 8736
Tourism Affairs Department: 8988-4242 loc. 8842
Barangay and Community Relations Department: 8988-4242 loc. 8520 / 8526
Environmental Protection and Waste Management Department: 8988-4242 loc. 8348 / 8349 / 8359
Department of the Building Official: DBO@quezoncity.gov.ph 8988-4242 loc. 8916 / 8912
Task Force on Solid Waste Management: 8988-4242 loc. 8362
Human Resource and Management Department: hresourcemd@quezoncity.gov.ph 8988-4242 loc. 8502 / 8504
City Veterinary Department: 8988-4242 loc. 8036
Tricycle Regulatory Unit: 703-8906 or 710-2256