An affirmative defense is an allegation of a new matter which, while hypothetically admitting the material allegations in the pleading of the claimant, would nevertheless prevent or bar recovery (Rule 6, Sec. 5). The amendments are discussed below.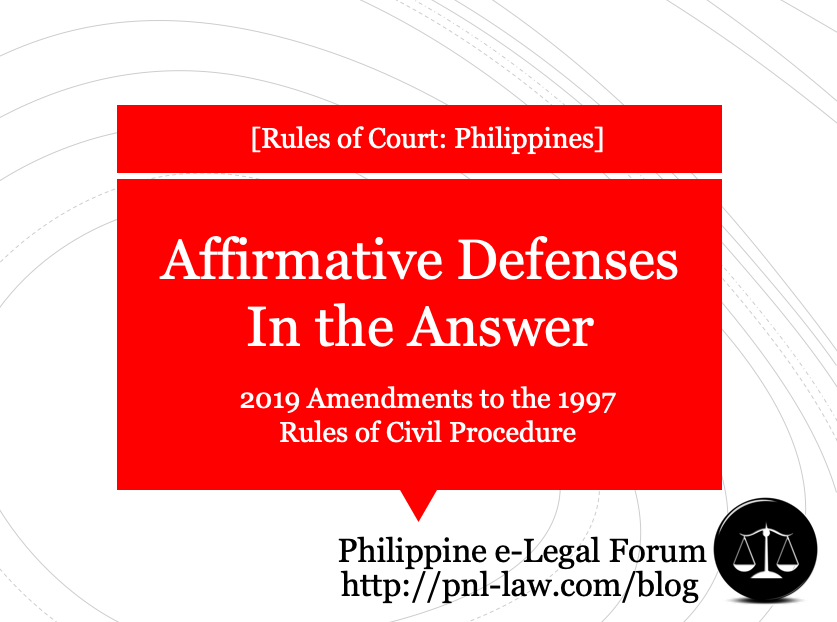 [The 2019 Proposed Amendments to the 1997 Rules of Civil Procedure (hereinafter, "2019 Amendments") takes effect on 1 May 2020. Affirmative defenses are included in Rule 8 ("Manner of Making Allegations in Pleading") of the 2019 Amendments, but it might be more helpful to discuss it in a separate post. The summary of other Rules may be tracked through the Menu.
The affirmative defenses, which are limited only to the grounds enumerated in the 2019 Amendments, must be included in the Answer (Rule 8, Sec. 12[a]).
I. WAIVER IF NOT RAISED
The 2019 Amendments provides that the failure to raise the affirmative defenses at the earliest opportunity shall constitute a waiver thereof (Rule 8, Sec. 12[b]). This is consistent with Rule 9, which provides that defenses and objections not pleaded in either a motion to dismiss or in the answer are deemed waived (Sec. 1).
However, the following are not waived and the court can still dismiss the claim:
there is another action pending between the same parties for the same cause, or
the action is barred by a prior judgment.
These exceptions are provided in both Rule 6 (Sec. 5) and Rule 9 (Sec. 1) of the 2019 Amendments.
II. OTHER GROUNDS
In addition to the three grounds mentioned above, affirmative defenses include fraud, statute of limitations, release, payment, illegality, statute of frauds, estoppel, former recovery, discharge in bankruptcy, and any other matter by way of confession and avoidance. (Rule 6, Sec. 5)
The court may conduct a summary hearing within

15 calendar days

from the filing of the answer. Such affirmative defenses shall be resolved by the court within

30 calendar days

from the termination of the summary hearing.
The third set of grounds as affirmative defenses, which the court must resolve motu proprio within 30 calendar days from the filing of the answer, are as follows:
2. That venue is improperly laid;
3. That the plaintiff has no legal capacity to sue;
4. That the pleading asserting the claim states no cause of action; and
5. That a condition precedent for filing the claim has not been complied with.
III. DISMISSAL WITH PREJUDICE
As provided in Rule 9 of the 2019 Amendments, an order granting an affirmative defense (this can also be done through a motion to dismiss) shall bar the refiling of the same action or claim, in the following instances:
that the cause of action is barred by a prior judgment or by the statute of limitations;
that the claim or demand set forth in the plaintiff's pleading has been paid, waived, abandoned or otherwise extinguished; or
that the claim on which the action is founded is unenforceable under the provisions of the statute of frauds,
[See Summary/Discussion of Rules on Motions), specifically Motions to Dismiss; see also Manner of Making Allegations in Pleadings.]
IV. REMEDIES
DENIAL. Affirmative defenses, if denied, shall not be the subject of a motion for reconsideration or petition for certiorari, prohibition or mandamus, but may be among the matters to be raised on appeal after a judgment on the merits. [Rule 8 , Sec. 12(e)]
GRANT. An order granting an affirmative defense may be the subject of appeal. [Rule 15, Sec. 13]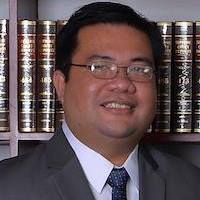 Latest posts by Atty.Fred
(see all)